YouTube Red: subscription service for ad-free video and music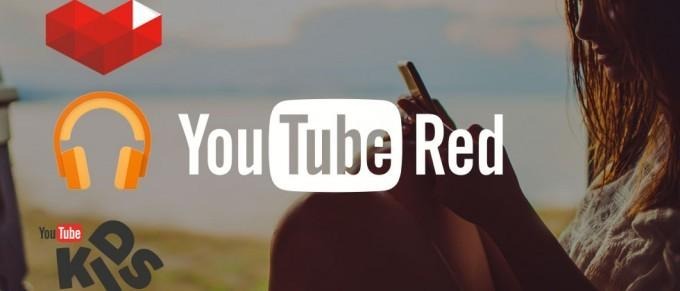 This morning YouTube debuted "YouTube Red", Google's first attempt at making a fully ad-free subscription-included video service. This service will be delivered for $9.99 a month and will include the entirety of YouTube without any advertisements whatsoever. This service also includes the ability to play videos on your smartphone or laptop offline – similar to downloading said video, sort of. YouTube Red also includes YouTube Music and includes a full subscription to Google Play Music – streaming all the music you want.
YouTube Red will include original content as well as content (again, ad-free) from YouTube Gaming and YouTube Kids. Basically the full collection of Google's video services will be delivered under YouTube Red for a cost of around $10 a month.
Features formerly delivered with YouTube Music Key are available here too – you'll be able to play music in the background on your mobile device while you're in a completely different app, for example.
YouTube Red benefits:

• Ad-free videos: Watch videos without interruptions

• Save offline: Save videos and songs on your mobile device to watch offline

• Background play: Keep videos or music playing when using other apps or when your screen's off

• Google Play Music subscription: Included at no additional cost
Google suggests that YouTube Red benefits will not work with YouTube content you'd otherwise pay to view – this includes paid channels, movie rentals (through Google Play), and pay-per-view purchases.
Content creators will still be working with a 55-percent cut of ad revenues without YouTube Red. When YouTube Red takes effect, creators will be getting a percentage of total subscription revenue based on the amount of time their videos are watched each month – not entirely unlike Netflix, for example.
NOTE: If you're already a Google Play Music subscriber, you'll receive access to YouTube Red for free. The opposite is true as well – each service will receive access to the other, and vice versa.
You can learn more and grab a subscription (and notifications about launch) via Google's YouTube Red website right this minute.