YouTube Music arrives on your Sonos speakers today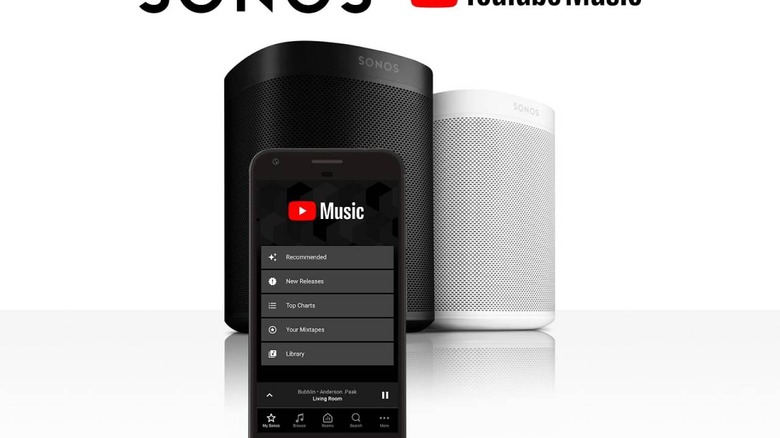 If you're a YouTube Music subscriber who happens to have an arsenal of Sonos speakers, then today is a good day. Google and Sonos have flipped the switch on YouTube Music integration for the latter company's speakers, making it the latest on a long list of music services that play nice with Sonos' products. With this new functionality comes the ability to control YouTube Music from within the Sonos app as well.
When you open up YouTube Music in the Sonos app, you'll see a few different options to select from. Tapping the "Recommended" button will, of course, take you to list of suggestions that are based on your preferences. YouTube Music will also surface your favorites and last played here as well, allowing you to jump into music you know you'll like.
There's also a "New Releases" tab, which takes you to a selection of new music that has again been tailored to your tastes and listening habits. The "Top Charts" button will show you a list of the 100 most popular songs on YouTube Music at the moment, while "Your Mixtape" produces a playlist that mixes your most-listened to songs with new tracks that you may not have heard before.
Finally, we've got a "Library" button which – you guessed it – allows you to browse your library and pick something to play from there. To add YouTube Music to your Sonos app, you'll want to make sure that it's updated to the latest version first. Once you've confirmed that, select the "More" tab, then head into "Add Music Services" and log in with whatever account you use to subscribe to YouTube Music.
All in all, it sounds like YouTube Music is pretty well integrated with the Sonos app. This functionality is going live today for YouTube Music and YouTube Premium subscribers, so if you've got a collection of Sonos speakers dotting your house, be sure to check it out.