YouTube makes it easier to have a party in Google+ Hangouts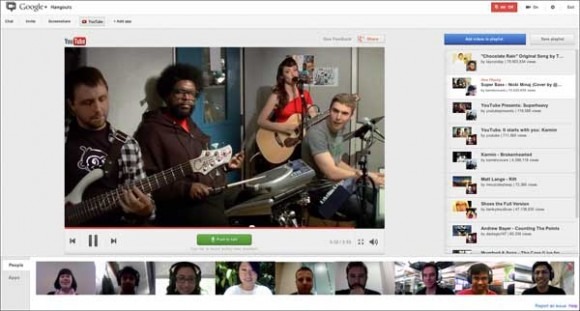 YouTube has made it easier to share videos with a group of people using Google+ Hangouts. The video giant says the idea is something along the lines of when you go to a party with your friends, and you end up showing each other your favorite YouTube videos. Yesterday marked the launch of the new YouTube app in Google+ Hangouts.
The app allows you and anyone participating in a Hangout to create, control, save, and share a playlist of videos with your friends within the Hangout. To use the service, once a Hangout has started, everyone has to load the YouTube app the top of the screen, and they can then start adding videos. Anyone will be able to add videos to the Hangout using the search tool in the app or remove videos they don't like.
Everyone participating can drag and drop videos to sort order in the playlist or skip forward and backwards to play the next one. The app also has a "push to talk" button that allows you to voice chat with the group. Individual users can save videos that they like and share people in their Google+ circle at any time. The app is available in 60 languages globally right now.