YouTube livestream broadcasting coming to mobile app really soon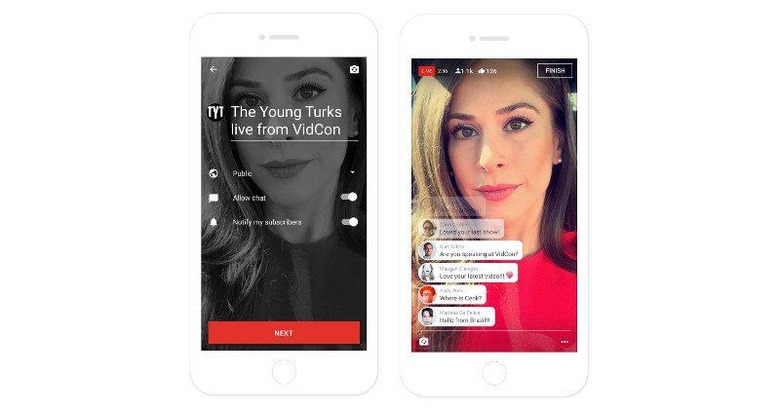 The game is on! The live streaming game, that is. Facebook was recently reported to be signing up and paying networks celebrities to use its Facebook Live platform and naturally YouTube isn't going to take things sitting down. No, it won't be making such contracts (not that it doesn't already for all we know). Instead, YouTube is going to put the power into hands of the masses, by rolling out the live streaming feature baked right inside the regular YouTube app soon.
YouTube claims to be one of the pioneers of the whole live streaming trend, even before it became hot. It was already broadcasting events live back in 2011, and even broadcasted the first 360-degree concert experience. Of course, those have been limited to official YouTube live streaming, controlled and distributed by YouTube. But live streaming these days is all about the regular users, and that's what YouTube is promising to come soon.
What will set YouTube Live part from the competition will be its integration with an already existing and heavily used video streaming platform: YouTube. No need for a new platform, new service, or new account. But more importantly, no need for a new app either. YouTube live will be baked deep inside the YouTube app so that it will be almost as simple as hitting the record button, choosing a cover thumbnail photo, and going live for the whole world to see. Or maybe just your close friends.
The integration goes beyond recording too. Live stream videos are treated just like any other pre-recorded, uploaded video. That means they will also show up in recommendations and playlists. But that also means you can control who can view the video, so that you won't have stalkers snooping in.
YouTube hasn't yet revealed when the new feature will roll out to the public. For now, it's taking advantage of VidCon to make it available to a select few popular broadcasters and YouTube Creators. YouTube is also announcing a few goodies for those creators to encourage them to, well, create more. A new Creator Hub shows of a new design as well as a new "YouTube for Creators" program to help content creators maximize the platform and grow their audience.