YouTube Live Broadcast revealed: watch out Periscope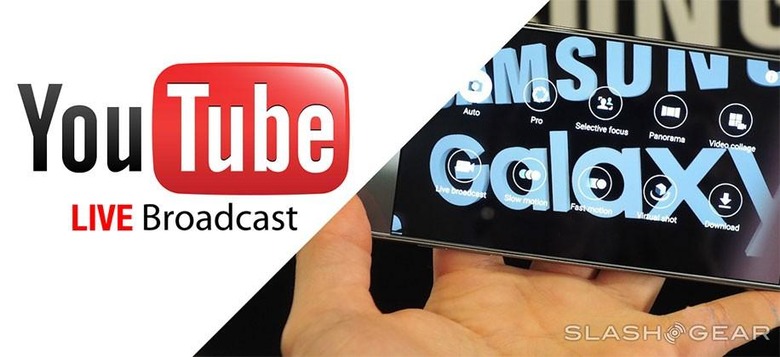 If Periscope and Meerkat are to be believed, live-streaming video from your point of view is the new big thing, and so YouTube is getting in on the deal. YouTube Live Broadcast, revealed today as a feature on the new Samsung Galaxy Note 5 and Galaxy S6 edge+, turns the smartphone camera into a live-streaming platform. That video can be shared privately with just a few contacts, or alternatively beamed out publicly to anybody with access to your YouTube channel.
What helps set Live Broadcast apart from its streaming brethren is its integration with YouTube in the browser. While watching a Meerkat or Periscope stream demands you have the apps installed first, YouTube's system shows up in any browser or YouTube player loaded across any platform.
I tried Samsung's implementation, and it's fairly straightforward. Live Broadcast is just another mode in the camera app, alongside things like panoramic capture, and after logging in with your Google account you can begin streaming.
A contacts book in the app itself allows invitations to be sent out, for streams set to private.
Even when the live streaming is over, the video itself is of course stored for posterity on your channel. One of the lingering complaints for Periscope, Meerkat, and other such services is ease of re-discovery and replay, something that should be a little easier with YouTube's version.
Though Periscope and Meerkat have proved popular, coming preloaded in a tier one smartphone – not to mention the recognizable brand name – might well give YouTube Live Broadcast an edge. Both the Galaxy Note 5 and the Galaxy S6 edge+ are expected to hit store shelves in the US on August 21.