YouTube Kids app arrives on some LG, Sony, and Samsung smart TVs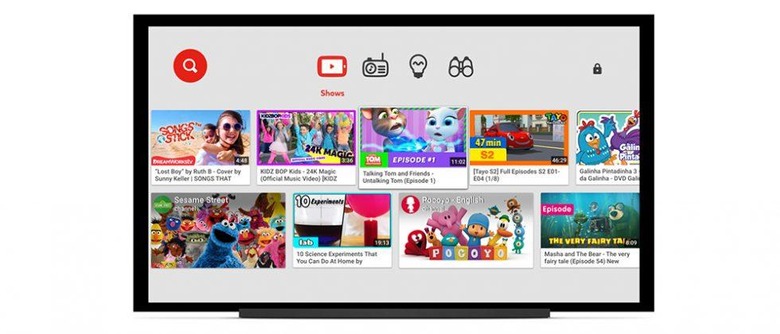 YouTube's service for children, aptly named YouTube Kids, has arrived on some smart TVs, the company has announced. YouTube Kids has already been available on tablets and smartphones, and thanks to this latest app, kids can now watch their favorite streaming content on smart TVs from Sony, LG, and Samsung. The app will be launched for the televisions in 26 countries.
YouTube Kids, for those unfamiliar, is a specific YouTube service designed for young children who can't or shouldn't be left to browse through the regular service. 'Kids' features child-friendly content without the more mature content that can be found on the regular YouTube service, meaning kids are free to search for their favorite shows without an adult having to supervise.
As we'd expect, the app is coming to select models from the three aforementioned manufacturers. This includes all of the smart TVs from LG featuring webOS that were sold from 2015 through 2017, as well as all of Samsung's smart TVs from 2013 through present that have the Samsung App Store (as well as its applicable Blu-ray players), and all of the 2016 and 2017 Sony smart TVs once they receive an apparently upcoming firmware update.
YouTube says the new smart TV app will be coming to televisions in the following countries:
United States

United Kingdom

Ireland

Canada

Australia

New Zealand

Argentina

Colombia

Mexico

Chile

Peru

Spain

Brazil

Russia

Nigeria

Kenya

South Africa

Ghana

Uganda

Zimbabwe

Tanzania

Malaysia

Philippines

India

Singapore

France
SOURCE: YouTube