YouTube and Disney distance themselves from PewDiePie after anti-Semitic videos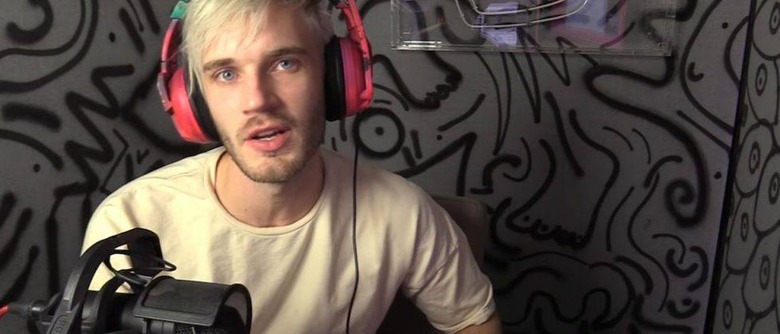 Big time Youtuber Felix Kjellberg, known more commonly as PewDiePie, is back in the news today, but this time for reasons beyond simply trolling his subscribers. He's found himself in hot water with both his network and YouTube after references to Nazism and anti-Semitic remarks were found in a handful of videos. The fallout has been immediate, with Disney-owned Maker Studios dropping PewDiePie from its network.
The Wall Street Journal reports that this questionable content was found in nine different videos published by Kjellberg, though one video in particular seems to be getting the lion's share of attention. It involves Khellberg venturing into the realm of Fiverr and paying a pair of men to produce a video that features the two of them dancing before producing a sign that says "Death to All Jews."
Even though Kjellberg ends the video by apologizing, mentioning that he didn't think they were actually going to do what he requested, it seems the damage was done. The men featured in the video, on the other hand, have since come out with a statement saying they don't really understand what the message meant. You can see the video in question, rehosted on YouTube after Kjellberg took it down, posted below. Just a fair warning: the video contains some offensive language.
When asked for comment by The Wall Street Journal, Maker Studios condemned the video in question, stating that PewDiePie crossed a line in publishing it. "Although Felix has created a following by being provocative and irreverent, he clearly went too far in this case and the resulting videos are inappropriate," the statement reads.
Maker Studios was quick to distance itself from PewDiePie, and now YouTube has taken steps to do the same thing. According to Variety, YouTube has announced that it will be cancelling the YouTube Red show Scare PewDiePie, which had recently been renewed for a second season. On top of all of that, PewDiePie is also being removed from Google Preferred, a major advertising network for partners who make "brand-safe content."
For his part, PewDiePie has issued a statement on the whole ordeal over on his personal blog. In it, he affirms that he doesn't support "hateful attitudes" of any kind, and that the video was meant to show "how crazy the modern world is." His statement can be found in full below.
It came to my attention yesterday that some have been pointing to my videos and saying that I am giving credibility to the anti-Semitic movement, and my fans are part of it as well for watching. I don't want to cite the sources because I don't want to give them any more attention.

This originated from a video I made a couple of weeks ago. I was trying to show how crazy the modern world is, specifically some of the services available online. I picked something that seemed absurd to me—That people on Fiverr would say anything for 5 dollars.

I think it's important to say something and I want to make one thing clear: I am in no way supporting any kind of hateful attitudes.

I make videos for my audience. I think of the content that I create as entertainment, and not a place for any serious political commentary. I know my audience understand that and that is why they come to my channel. Though this was not my intention, I understand that these jokes were ultimately offensive.

As laughable as it is to believe that I might actually endorse these people, to anyone unsure on my standpoint regarding hate-based groups: No, I don't support these people in any way.

Thanks for reading.
So, there has certainly been a lot of negative fallout for PewDiePie, but how much are these measures going to affect his business? With 53 million subscribers to his YouTube channel, PewDiePie is by far this biggest video creator on YouTube, so one has to wonder if the measures taken by YouTube and Maker Studios are going to have any noticeable effect on his videos and the breadth of his audience. We likely haven't heard the last of this story, so stay tuned for more.
SOURCE: The Wall Street Journal