Your Hue lights now play nicer (and smarter) with Xfinity Home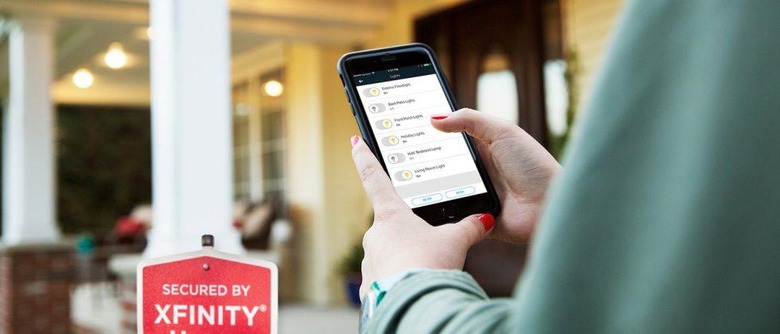 If you've embraced the smart home with Philips' Hue connected lights, and you're an Xfinity Home subscriber, your fancy lighting options are now becoming even cleverer. The two companies have announced a deal this morning which sees Hue light control brought under the umbrella of the Xfinity Home app. There, it joins IoT gadgets like Nest's smart thermostat and August's connected locks.
For the basics, you'll be able to turn Hue lights on and off from within the same app that controls other Xfinity Home devices. However, the more interesting possibilities should come when you link multiple devices or actions into one. There, Xfinity Home works as a bridge of sorts, allowing devices that normally wouldn't cooperate to be linked in "rules".
So, you could have the lights automatically turn off whenever you leave the house and set the alarm system. Alternatively, the lights could all come on if the alarm sounds, together with your security cameras. Xfinity Home already works with connected garage door openers, plug-in dimmers and smart switches from Lutron and GE, and Sengled's Element Touch connected bulbs, and all can be integrated into rules.
What you can't do, for the moment at least, is use voice to control your Hue lights. Xfinity Home's voice command system, which works with the X1 remote, currently supports opening up a view from connected security cameras as well as enabling and disabling the alarm, but for the moment Hue isn't supported. Comcast says that should change in due course, however.
Unlike many attempts to hub-ify the smart home from Samsung-owned SmartThings and other platforms, Comcast is charging a subscription fee for its service. Pricing starts at $39.95 per month – assuming you're willing to ink your name to a two year contract – though for that you do get 24/7 human monitoring at Comcast's central station. On the hardware side, you get a touchscreen controller, wireless keypad, a motion sensor, and three door/window sensors.
However Comcast has its own add-on gadgets, including indoor/outdoor cameras, a smart thermostat if you don't already have a Nest, and a smoke alarm. There's also a water detection alarm, and cloud-based video recording with remote access.