Your Galaxy S8 Now Works With Windows Hello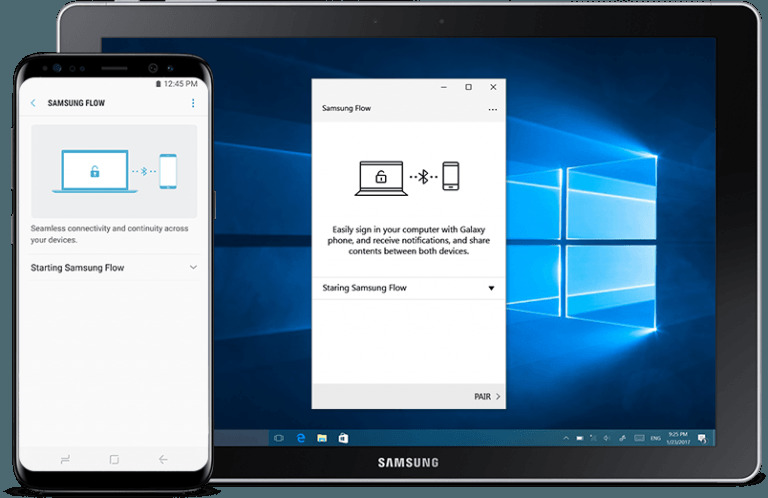 Samsung Flow is getting a major update today that will significantly expand its functionality. Before we tackle that, though, it may be worth it to revisit what Samsung Flow is – simply put, Samsung Flow is a utility that has, up until now, allowed you to unlock your Samsung-branded Windows 10 PC with your Samsung phone. Assuming you had those two devices, it was a pretty handy app to have on your phone, if not a little limited in scope.
That all changes today, though. Samsung Flow is now compatible with all Windows 10 PCs that have applied the Creators Update. So, with the Samsung-branded PC requirement removed, all you need now is a Galaxy S6, S7, or S8 in your pocket and an up-to-date Windows 10 PC to put Samsung Flow to use.
Samsung had previously indicated that such an expansion was incoming. Back in February, we heard that this new functionality could arrive in Samsung Flow as early as April, but obviously Samsung failed to meet that launch window. Samsung had originally intended to launch shortly after the Creators Update landed, but it seems that this functionality took a little longer than anticipated to develop.
In any case, Windows Hello isn't the only thing this new version of Samsung Flow supports. You'll also be able to send PC notifications to your Samsung phone through this new update. Like Windows Hello support, this was once limited to Samsung PCs, but is now expanding to all Windows 10 PCs provided they've applied the Creators Update.
If you're new to the Samsung Flow scene, you'll need to grab the app from the Google Play Store [download] and the Windows Store [download]. Once you've downloaded both versions of the app, simply start up both and pair your phone and computer via Bluetooth. It's a fairly straightforward process, but if you get lost, Samsung has detailed the entire process on its website.