Samsung Flow will soon let Galaxy phones unlock Windows 10 PCs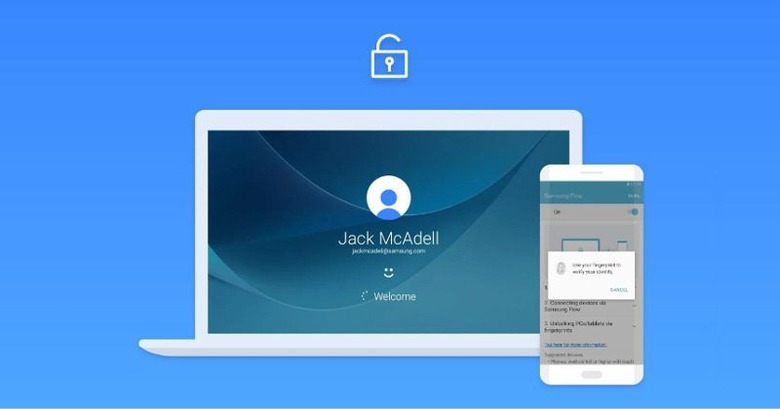 Samsung Flow isn't actually new. Its name first came up in November 2014 as Samsung's take on the idea of Continuity promoted by Apple. It rolled out in limited beta in May the following year as a way for users of Android-powered Galaxy smartphones and tablets to share states and content between two devices. However, it really took off when Samsung reintroduced the app in the Windows-powered Galaxy TabPro S and limited it to only that. But come April, if all goes according to plan, Samsung Flow will be able to connect any Samsung Galaxy phone with any Windows 10 PC.
What is this rather cryptic Samsung Flow anyway? In a nutshell, it is a service that lets one device communicate with another. In practice, it allows phone notifications to appear on a paired PC and even reply to those notifications from there, transfer content, or continue reading from one device to the other. Pretty much like what Apple did with Continuity or what Microsoft is doing through Cortana.
With the Galaxy TabPro S, however, Flow took on another exclusive feature. It allowed users to unlock the Windows tablet using the fingerprint scanner on their phone. This gave the tablet an added layer of security without itself needing its very own fingerprint scanner. That feature, however, remains exclusive to the Galaxy TabPro S. At least until April.
A Samsung representative, replying to a comment on Samsung Flow's Play Store page, revealed that compatibility with all Windows 10 PCs is coming soon. How soon? The rep says "estimated early April". That coincides with the estimate rollout of the Windows 10 Creators Update, so those two are most likely related. Last year's Anniversary Update did add fingerprint scanner support to Windows 10 but probably only for sensors directly installed on devices. Remote unlocking is probably something that only the Creators Update can bring.
That said, Samsung Flow will still be very limited on the smartphone side of the equation. It currently only supports the Galaxy S6, S6 edge, S6 edge+, Note 5, S7, S7 edge, and 2016 models of the A7 and A5. The Galaxy S8 and S8 Plus will most likely also be added to the list when they launch, coincidentally probably also in early April.
VIA: SamMobile