Your Friday new iPad gameplan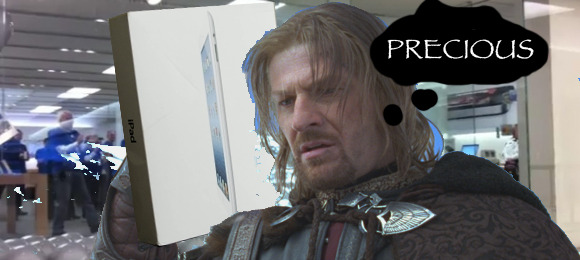 Apple's new iPad hits shelves on Friday, March 16, from 8am, but one does not simply walk into an Apple Store and pick up a new tablet. You'll need to plan ahead if you want one of the hotly contested third-gen tablets. What follows is a guide for all you would-be iPad purchasers including prices, locations you'll be able to pick a tablet up, and times you're going to want to start waiting in line to guarantee yourself a purchase on the first day.
Just like Boromir, you're going to want to be cautious when deciding which route to take to your ultimate goal. There are several outlets from whens your new iPad bounty will spring, this release set for a limited release in several countries around the world on March 18th, that's this Friday, at 8AM local time wherever you're situated. The countries with this first day release will be the USA, UK, Germany, Japan, Australia, Canada, France, Hong Kong, Singapore, and Switzerland – also Puerto Rico and the US Virgin Islands will be getting in on this first day release.
You will be able to pick up an iPad at any Apple retail store in any of the locations listed above at 8AM, and in the USA you'll also be able to pick a unit up at:
• Best Buy
• Radio Shack
• Sam's Club
• Target
• Walmart
The mobile data-connected versions of the new iPad will also be available at participating carriers at 8AM as well, this including Verizon and AT&T here in the USA. Because of this wide release, you're going to want to get to your local outlet at least an hour before opening time to assure yourself a unit.
That said, some locations – such as the most gigantic Apple stores both here and in the UK already having people standing (and sitting, and sleeping) in line to assure their ultimate fandom is displayed for all to see. You'll probably be safe just getting in line the same day as online orders will have stifled line-goers somewhat.
The New iPad hands-on
The new iPad will cost you $499 for the wifi-only 16GB model, with the 32GB wifi model coming in at $599 and the 64GB model costing you $699. For the 4G model which Apple notes works out like this: "4G for ultrafast 4G LTE networks in the US and Canada and fast 3G networks around the world including those based on HSPA+ and DC-HSDPA" will cost you a bit more. Prices for the 4G LTE model of the iPad will be $629 for the 16GB model, $729 for the 32GB model, and $829 for the 64GB model.
Get your pocketbooks out now and run to your outlet – don't want to be caught without the newest model on the block! That said, the iPad 2 will now be offered for a discounted price ringing in at $399 for the Wifi 16GB model and $529 for the 16GB version with 3G. Grab it!
Also note that starting March 23 the new iPad will be available in Austria, Belgium, Bulgaria, Czech Republic, Denmark, Finland, Greece, Hungary, Iceland, Ireland, Italy, Liechtenstein, Luxembourg, Macau, Mexico, The Netherlands, New Zealand, Norway, Poland, Portugal, Romania, Slovakia, Slovenia, Spain and Sweden. Everyone will get their shot!