You can't own an Apple Watch today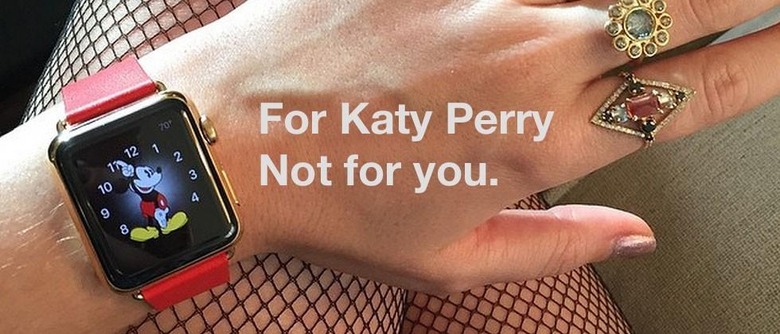 You can't actually own an Apple Watch today. While you might see a line at your local Apple Store, it's not a line for purchase. The news sources suggesting otherwise are wrong – here's the simple truth: today isn't Apple Watch sale day. It's Apple Watch try-on day. That's all you're going to be able to do. Unless you're Katy Perry, of course. Or if you're one of the lucky few Apple employees who have the Apple Watch already – they can wear it out of the store – but not you.
As mentioned previously, today is the day Apple Stores open to allow people to see the Apple Watch up close and try the Apple Watch on. You cannot walk in to an Apple Store today to buy an Apple Watch and expect to walk away with an Apple Watch when you've completed purchase.
Instead, the most you can do is pre-order. The closest you can get to purchasing an Apple Watch today is this totally non-traditional process:
1. Make an appointment to try an Apple Watch on.
2. Try an Apple Watch on and say yes, I do want this.
3. Pre-order an Apple Watch on the spot.
4. Wait until pre-orders are prepared and retrieve your watch.
If you've not already done this, you're going to be waiting for that Apple Watch at least 4-6 weeks. That's the shipping time listed on Apple's pre-order portal right this minute.
The image you see above shows Katy Perry wearing an Apple Watch. She and Drake and Pharrell and probably a half dozen (or more) celebrities and fashion icons are wearing Apple Watches today. Expect a whole lot more of that action in the next few weeks before the device hits the Apple Store for real.