You can't buy iMac Pro Space Gray accessories separately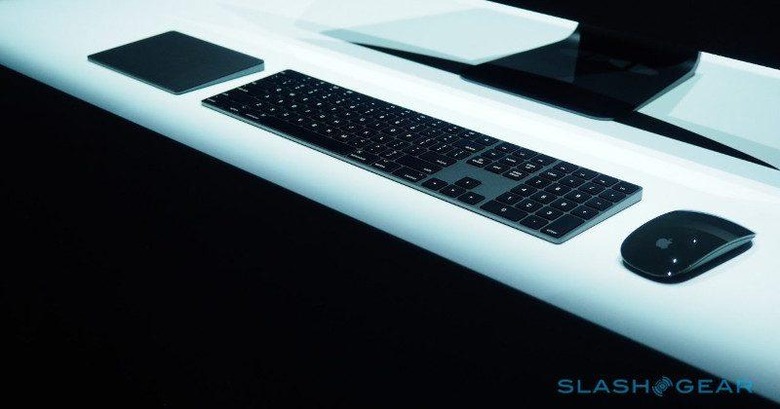 Apple giveth and Apple taketh away. At a rather unusual WWDC keynote, Apple revealed a plethora of new devices, or rather mostly refreshed devices, some of which have accessories in tow. And just as some might be a bit confused by Apple's message on its revised Mac and iPad Pro lines, its accessories message is just as confusing, if not disappointing. Apple has sadly revealed that you won't be able to buy any of the new Space Gray accessories it just showed off. And neither can you buy a wired keyboard anymore.
If you loathed Apple's ancient multi-colored candy iMacs, you probably welcomed its new "professional-looking", industrial, and clean design that permeates its entire hardware ecosystem. There was one catch, however. The Macs really only came in one color option. The new Space Gray iMac Pro added a new but still muted color option, with never before seen Space Gray keyboards and mice. But, again, there's a catch.
You can't buy those accessories on their own, unlike other Apple Keyboards and Apple Mice. The only way to get them is by buying the $4,999 iMac Pro when it comes out. So while Apple has acknowledge the wishes of fans for new color options, it isn't actually making those available to anyone other than new iMac Pro owners.
If you were also planning on buying a wired keyboard from Apple, one with an numeric keypad, you've just run out of luck and out of time. Apple has silently yanked that from its online store, and replaced it with a new wireless Magic Keyboard. At least it has a numeric keypad. And, no, you can't get it in Space Gray either.

The post-keynote fineprint revelations doesn't end there. Although it's not exactly a surprise, since no other Apple computer offers it, Apple confirmed that the RAM on the iMac Pro is not user replaceable. While Mac users are probably used to this status quo, it does detract from its image of being a "Pro" iMac model.
VIA: 9to5Mac