You can now use Skype Translator in mobile and landline calls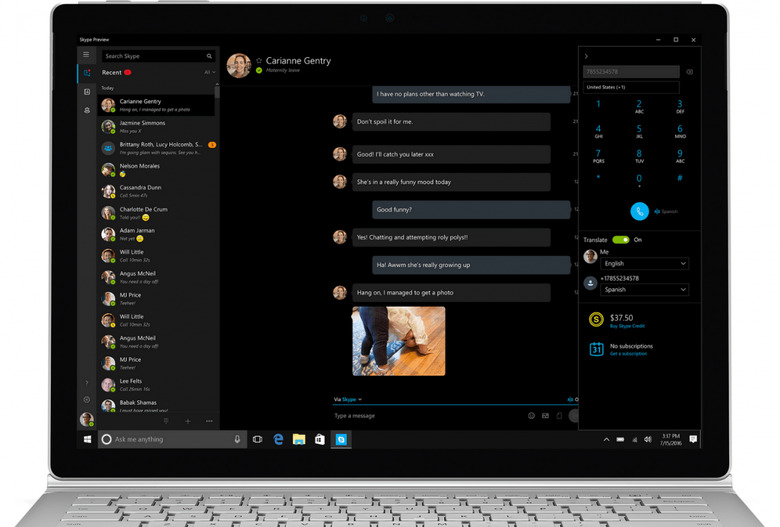 Skype's cool real-time translation feature, appropriately named Translator, is getting a rather significant expansion today. What was once limited to Skype-to-Skype calling is now expanding to calls with mobile phones and landlines. This assumes a few things, most importantly that you're part of the Windows Insider program.
For the moment, this is only available as a beta through the Windows Insider program, which means you'll also need the latest Skype Preview build. Finally, you'll need Skype credits to actually make the call, as phoning mobile numbers or landlines actually requires payment on your end. Assuming you meet all of those conditions, you're ready to begin using Skype Translator in your mobile and landline calls.
The option to turn on Skype Translator will appear in the dialer when you've entered the number you're calling. Tapping the translator button that appears next to the call button will allow you to select the languages, and from there you'll be good to go. When the person on the other end picks up, they'll hear a message that says the call will be recorded for the purposes of Skype Translator.
Skype Translator currently supports nine different languages: English, Spanish, French, German, Chinese (Mandarin), Italian, Portuguese (Brazilian), Arabic, and Russian. Presumably, support for more languages will be added as Skype Translator matures, and that may be especially true now that the feature is moving into the realm of mobile and landline calling.
Obviously, Skype Translator isn't going to be perfect yet, though Skype says you can improve the experience by using a headset. Other new features coming to Skype Preview include the ability to send video messages to contacts regardless of their online status, along with the ability to forward calls to landlines or mobile phones. You should be able to use Skype Translator in mobile and landline calls now, so have at it.
SOURCE: Skype