You Can Now Get Your Hands On The NVIDIA SHIELD Pro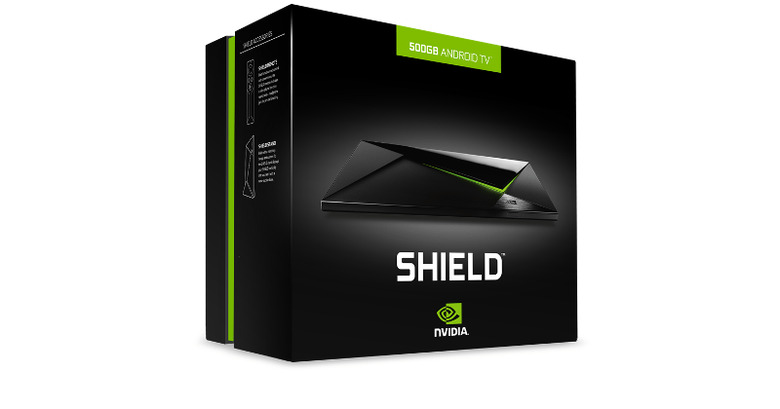 We may receive a commission on purchases made from links.
If you have been waiting for NVIDIA to give the green light for its more spacious Android gaming console, then wait no longer. Starting today, June 12, the NVIDIA SHIELD Pro, with its whopping 500 GB of storage, is now available for you to purchase. Of course, with a considerably augmented price tag as well. That, however, is the price the pay if you always end up wishing you had a bit more space to install those high quality but also high resource Android games now in the market.
So what are you getting with this $299 gaming box, actually more like a gaming slab? You get an Android device running on the Tegra X1, one of the recorded fastest CPUs in the mobile market, that hopefully doesn't overheat. You get access to NVIDIA's SHIELD Hub, with exclusive titles and, in supported regions, NVIDIA GRID game streaming. And as an Android TV device, the SHIELD is also an all-around entertainment center. What you don't get in the package is the SHIELD Remote. Fortunately, they're throwing in the wireless SHIELD Controller.
If the Nexus Player was the reference device for Android TV, the NVIDIA SHIELD undoubtedly surpasses it, in performance, versatility, game selection, and looks. NVIDIA may not have found a home in the smartphone market, but it may very well win this nascent Android TV segment hands down. And if your heart and your thumbs lean more towards the Android gaming side of things rather than PlayStations or Xboxes, then the NVIDIA SHIELD is definitely a worthy addition to your living room space.
Get to know more about the NVIDIA SHIELD in our in-depth review of the Android TV star.
As mentioned, the Pro version understandably costs higher, $299 versus the $199 of the regular 16 GB version. With that purchase, however, you also get a $60 credit in Google Play Store, split equally between $30 for Play Store purchases and three months of Google Play Music. For a limited time, however, that will also include a copy of Borderlands: The Pre-Sequel, another $30 value freebie. The NVIDIA SHIELD Pro is available from NVIDIA, Amazon, and Best Buy.