You Can Finally Buy A $20K 77" LG SIGNATURE 4K OLED TV W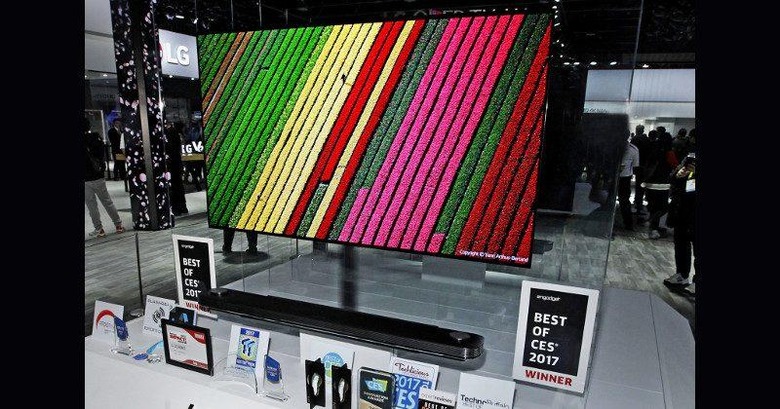 Usually, it only takes a few months for a company to fully launch a new product after publicly announcing it. In LG's case, it took nearly half a year, but the wait may have been very well worth it. At least for those who could afford it. At CES last January, LG unveiled its new generation of "Signature" 4K OLED TVs and one in particular was obviously its star: the 77-inch LG SIGNATURE OLED TV W that is so thin and even slightly flexible that it looks like it's part of your wallpaper.
There's a reason why LG is calling this new "W" series its "Picture-on-Wall" models. Measuring only a fifth of an inch thin, these TVs practically disappear into your wall. They're also lightweight, somewhat flexible and only held up by magnets. It's not a completely miracle, though, since LG "cheats" by relocating all "unnecessary" components to an external box instead.
The 77-inch LG SIGNATURE OLED TV W boasts all that LG has to offer in the 4K UHD HDR smart TV space. Be ready for an acronym overload. In addition to 4K OLED pixels that promise deep blacks and rich colors, the TVs also support all major HDR formats including HDR10, YouTube VP9, Dolby Vision HDR, and HLG. It also has LG's Active HDR that analyzes and optimizes HDR scenes on fly. Cinema-quality Dolby Atmos and the latest webOS 3.5 platform just about rounds up the feature set.
You will, however, really be paying for all that. Which really shouldn't be surprising considering this is part of LG's SIGNATURE brand. Launched at CES last year, this brand would mark the company's premium, and therefore expensive products. And just how expensive is it? The 77-inch class 77W7 costs a whopping $19,999, which is pretty much the same as last year's 77-inch signature model. You could settle for a smaller and cheaper 65W7 for $7,999, but without all the perks mentioned above.
Not everyone might want or can afford that OLED TV W. Fortunately LG has a lot more choices to offer. Still part of its SIGNATURE line, and therefore still a bit pricey, are the 77-inch (77G7) and 65-inch (65G7) "Picture-on-Glass" series, for $14,999 and $6,999, respectively. Though not as thin as the "W" series, the "G" line continues the premium OLED TV design that LG launched last year.
Here is the full rundown of LG's 2017 OLED TV series and their prices:
LG SIGNATURE OLED TV Picture-on-Wall W7 Series
• 77-inch class (76.7-inches diagonal) model 77W7, $19,999
• 65-inch class (64.5-inches diagonal) model 65W7, $7,999
LG SIGNATURE OLED TV Picture-on-Glass G7 Series
• 77-inch class (76.8-inches diagonal) model 77G7, $14,999
• 65-inch class (64.5-inches diagonal) model 65G7, $6,999
LG OLED TV Picture-on-Glass E7 Series
• 65-inch class (64.5-inches diagonal) model 65E7, $5,499
• 55-inch class (54.6-inches diagonal) model 55E7, $3,999
LG OLED TV C7 Series
• 65-inch class (64.5-inches diagonal) model 65C7, $4,499
• 55-inch class (54.6-inches diagonal) model 55C7, $2,999
LG OLED TV B7 Series
• 65-inch class (64.5-inches diagonal) model 65B7, $4,499
• 55-inch class (54.6-inches diagonal) model 55B7, $2,949