YotaPhone hands-on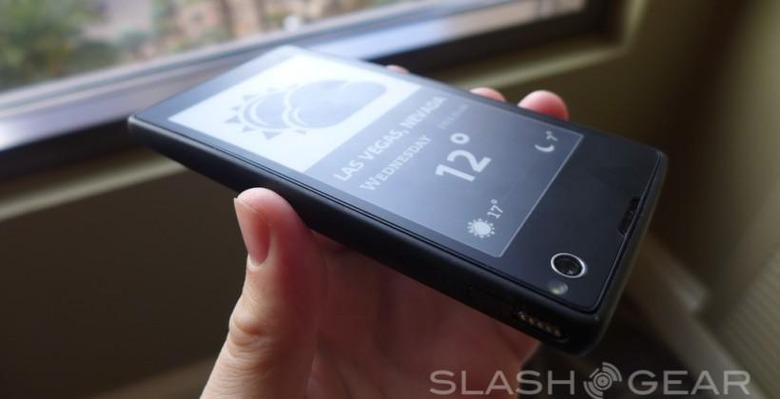 To be completely honest, the YotaPhone is one of devices I've been most looking forward to seeing during Slashgear's stay here at CES 2013. The device was announced last year and was immediately turning heads with its dual-screen setup. Dual-screen phones are nothing new, but the folks at Yota have put their own little spin on the dual-screen setup: instead of offering two LCD screens, the YotaPhone sports an HD LCD display on the front, and an eInk display around the back.
Of course, with dual-screen phones, manufacturers run the risk of having their devices ultimately come off as nothing more than gimmicky. The YotaPhone has its share of dissenters, but I'm pleased to report that it seems like a very solid device. We've got some powerful hardware running under the hood, including a dual-core Snapdragon S4 processor clocked at 1.5GHz, 2GB of RAM, and a custom 2,100mAh battery, so there's plenty to get excited about for the hardware enthusiast (though admittedly, it would have been great to see a quad-core CPU in place of the dual-core).
Both of the displays come in at 4.3-inches in size, with the LCD displaying at 1280x720 resolution. That naturally means 720p HD, so visuals are nice and sharp, and if you're a fan of eInk displays, the YotaPhone's rear screen will certainly please. Add to that a rear-facing 12MP camera and you've got a phone with one solid set of specs.
Interestingly, the folks at Yota have ditched buttons and have instead opted for gesture controls. This was something I was a bit hesitant about, but as it turns out, gesture controls work really well and seem like a intuitive replacement for the Android navigation buttons we're all familiar with. While we're on the topic of Android, it's worth pointing out that Yota expects its device to be running Android 4.2 by the time in launches here in North America, but unfortunately the device we saw today was only running Android 4.1. Still, having Jelly Bean out of the box is always a good thing, so you won't hear many complaints from me.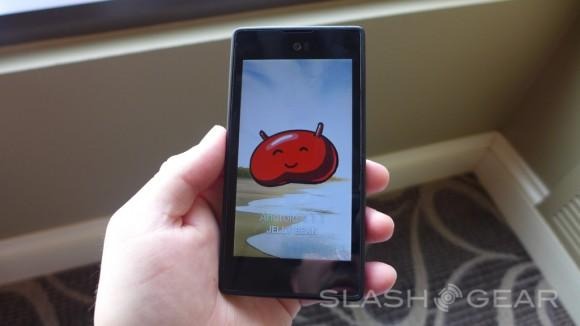 The phone is pretty lightweight and feels good in the hand, though there is a bit of a curve to both of the displays, which are each kept safe behind a layer of Corning Gorilla Glass 3. It's important to keep in mind that the device we saw today is still only a prototype, so aspects of its design could change by the time the it launches here in North America. At any rate, I can safely say that the YotaPhone is every bit as cool as I was hoping it would be, but there are still a few kinks to iron out in the weeks and months to come. Yota says that it's aiming for a late 2013 launch in North America, so expect to be seeing much more of the YotaPhone as we get closer to the end of the year. As always, you can find all of our coverage from CES 2013 at our CES portal, so be sure to have a look at that!