You'd have to be crazy to announce a new smartphone at the same time as a high-profile Samsung product. But, then again, Russian smartphone maker Yota was already deemed unorthodox when it slapped an e-paper display on the back of one. Now the company is back with the third gen YotaPhone, just YOTA in some markets, and its squarely aiming the two-faced smartphone at a younger generation that is happily discovering the joys of reading. Even if it's on a minuscule screen.
This is a dual screen phone done right. Or at least one that is done within reason. There have been other attempts at doing something similar, but in even weirder ways. Like Meizu's Pro 7 and Pro 7 Plus. Yota didn't stray from its tried and true formula but just made hardware better. At least some of them. The front 5.5-inch AMOLED screen doesn't go above Full HD resolutions. It uses a 5.2-inch E Ink Carta panel on its back, which goes somewhere along HD lines.
The Qualcomm Snapdragon 625 inside marks it for the mid-range, but it at least gets 4 GB of RAM and 64 or even 128 GB of storage. The cameras are not exactly sensational but neither are they negligible, with a 12 megapixel sensor on one side and 13 megapixels on the other side. There's even a fingerprint scanner under the home button on the front, pretty much on par with even mid-tier smartphones these days.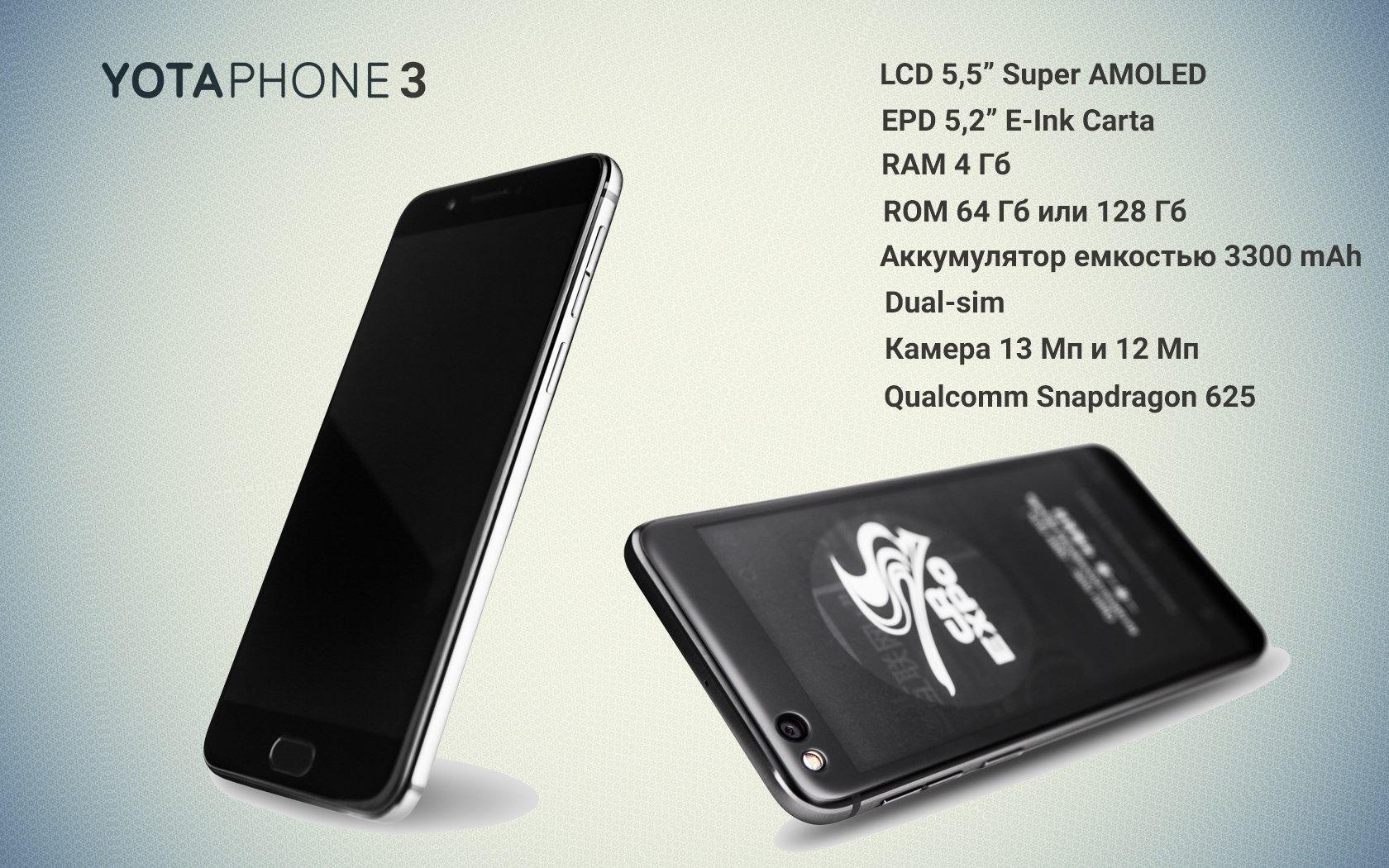 E-paper displays have always been used at the service of reading and while the YotaPhone uses it for more than just that, Yota is going back to its roots in the YotaPhone 3. In China, at least, it is preinstalling ebook reading apps and a library of ebooks to go along with it. No word yet on what's in store for other markets.
Although made by a Russian company, the YotaPhone 3 will launch first in China, where it will be marketed as the YOTA3, before heading out to other markets. The 64 GB version gets a $350 price tag while the 128 GB model goes for $435. Pre-orders on JD.com start 5th September and will start shipping in China on the 18th.
SOURCE: VK.com