Yi 360 VR is a pocket-sized camera with 4K video and 2.5K livestreaming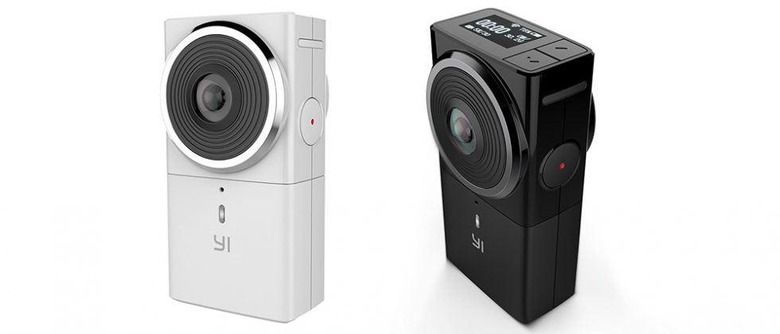 Joining Google's newly unveiled YI HALO camera is the Yi 360 VR, a consumer-tier camera designed for recording 360-degree video for virtual reality purposes. The camera is able to stitch together 4K-resolution videos and it can also livestream content at a 2.5K resolution, putting a relatively high-end VR camera in hobbyists' pockets. Despite its capabilities, the camera is small enough to fit in a pocket or bag; it works in conjunction with a mobile app.
The Yi 360 VR features a 12-megapixel Sony IMX377 CMOS sensor on each side of the camera, and with them users are able to capture still images as 360-degree panoramas with a 5.7K resolution. When it comes to recording videos, the resolution is bumped down to a 'smaller' 4K; those videos are stitched together in-device, so there's no need to use any separate software. The process is said to be instant.
Of course, livestreaming VR content for virtual reality headsets is becoming increasing popular, and so it isn't surprising that the Yi 360 VR is capable of this, too. That resolution is further bumped down to a 2.5K resolution. All of this is made possible, in part, with the Ambarella VR SOC H2V95 chip as well as 220-degree lenses. Videos are recorded at 30fps.
Yi says its camera's battery is able to sustain more than an hour of continuous recording before needing recharged. There's also WiFi for livestreaming and sharing content. The related mobile app is used to share, as well as view the content and edit it if necessary. The livestreaming feature supports YouTube and Facebook, as well as other unspecified services. Though users can preorder now, the camera won't be available until June. Price is $399 USD.
SOURCE: BusinessWire