Yelp iOS app update brings the awesome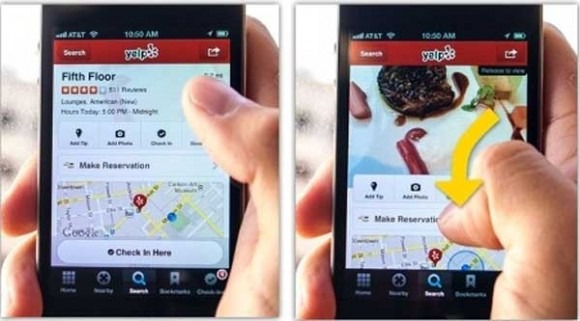 Yelp is a social review website that allows people to review also to things from restaurants to local businesses. The company has announced that it has updated its iOS application and says that the update is "literally filled to the brim with awesomeness." The updated version of the app brings Yelp to version 6.0 and is available for the iPhone and iPad.
The app update brings revised pages for businesses, community insights, and the ability to complement other users for insights on businesses using the iPhone. The community insights are interesting in that you can see which businesses specific age groups like. The iPad version allows users to edit business information, photos, and hand out votes for "useful," "funny," or "cool" items. IPad users can also now send other users complements on their reviews.
Yelp wrote in a blog post last week about the update to its business pages, "The old design of our business pages has served us well, but it was time for a remodel. We tore it down to the studs and built it back up with an eye on aesthetics and efficiency. We think you'll find browsing business details, photos, review highlights, reviews, and tips far more enjoyable."
Business pages on the updated version of the app now feature "pull to view" that lets the user to view photos for the business by pulling the screen down with a thumb gesture. Last week Yelp also starting to roll out an updated version of its mobile site m.yelp.com. That updated mobile site allows the user to login to their Yelp account, register for an account, and view or create bookmarks among other things.
[via PC Mag]