Yelp buys food ordering & delivery service Eat24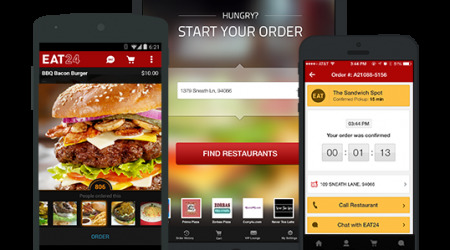 Back in 2013, Yelp partnered with Eat24 on what seemed like a service for the really lazy. Since then, food ordering and delivery via an app has blossomed, with apps like GrubHub joining in on the food delivery fun. With that, Yelp is announcing they want you to keep your pants off (that will make sense soon, I promise), and have acquired Eat24. The deal is worth $134 million in cash and stock, but it's not clear if Yelp will work Eat24 into their existing platform, or operate it separately.
In the blog post announcing the acquisition, Yelp CEO Jeremy Stoppelman had the following to say:
For those of you who haven't used the service, its mission is to keep you from having to cook, shop, or wear pants. Eat24 is an online food ordering app and website that covers about 20,000 restaurants across the country. As a Yelp Platform partner, they've been a valuable driver of our growth in the restaurant category while continuing to build an impressive business of their own.

Online and mobile food ordering is still in its infancy and restaurant and food searches are extremely popular on Yelp. We believe that the acquisition of Eat24 will allow us to build a better, more seamless ordering experience for consumers that we can grow through 2015 and beyond.
If Yelp can scale Eat24 to meet their platform's robust size, this could prove a winning combination. Again, it's not known if they're planning to work Eat24 into Yelp, or offer it as a service to restaurants like they do advertising, but we're looking forward to seeing what comes of it.
Source: Yelp