Yashica DVC825 And Rest Of Brand Returning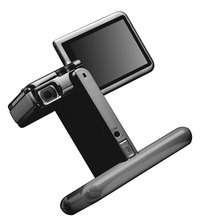 Yashica, the brand, is returning with some new digital and film cameras. The DVC825 seems to be from their higher end and is a digital camera that looks simply amazing.
It has the bendy and twisty parts of some Nokia phone I've seen before and what looks like a bright shiny aluminum casing, all of which combines to make for one sexy ass camera. Sadly this particular camera costs $1700, but that's also good because it shows that unlike its previous iteration, the Yashica brand name won't be stuck with mediocre middle-of-the-line cameras and they'll actually have some high end products.
The DVC825 has an 8MP CCD sensor, 3x optical zoom that's all internal, a 2.5" LCD, 8x digital zoom, auto White Balance, and 256MB integrated storage with an SDHC card slot for expansion. Apparently most of its price comes from its appearance and materials, but there is mention of an Earphone that's included that makes me believe it also does video, but the specs for that just might not be listed.
I am no photography historian, but apparently Yashica was fairly well known and respected for the middle of the line cameras that they made back in the day, but they went bankrupt in 2005. Since then they seem to have been bought out by MF Jebsen and are giving it another go. No word when we'll see them statedside, but its always good to see more competition entering into the digital camera market.
[via Wired]