Yamaha's odd OR2T four-wheel motorcycle hits the track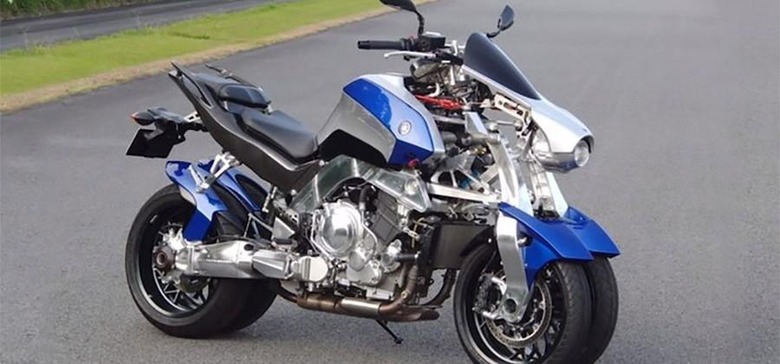 Yamaha has been making some waves of late with the unveiling of some interesting items at the Tokyo Motor Show including a new sports car called the Sports Ride. Another of the strange prototypes that the motorcycle maker is working on is called the OR2T and it is a leaning four-wheel motorcycle.
Visually the bike looks like someone gave it dual front and rear wheels placed very close together. The bike is still able to lean like a normal motorcycle. The OR2T has four wheels and suspension tech that are derived from an old Yamaha concept from 2007 called the Tesseract concept.
Each wheel of the concept has its own large vertical arm that is connected to its own shock absorber and linkage. The company is calling the OR2T a research and development prototype and the video released shows the bike during testing.
The engine inside the bike appears to be a three-cylinder MT-09 engine. Exactly how the rear suspension is laid out we don't know since no details are given. The OR2T is a fully functional motorcycle, but we still don't know if Yamaha plans to put the bike into production. The video below shows the bike in action.
SOURCE: Gizmag