Yamaha 04Gen scooter concept has dragonfly wings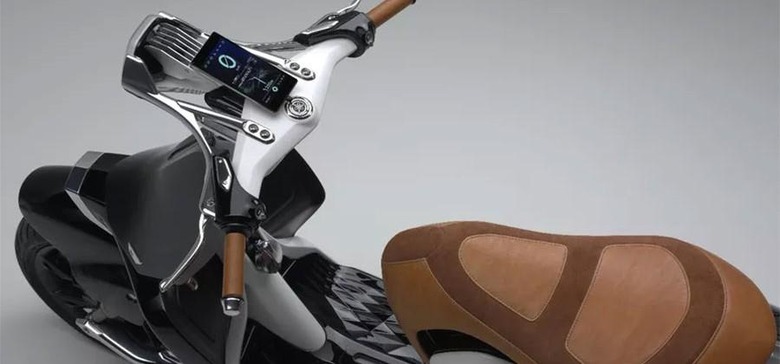 With gas being so cheap these days you don't see as many people on scooters, but there are still a bunch of folks who ride them around for commuting. Yamaha has unveiled a new scooter concept that looks like it's part bug called the 04Gen concept, the raised wing looking structures that you see in one of the images are not designed to be up while the scooter is in use.
Those transparent wing-like panels are actually the side panels for the scooter and they are designed to raise up to give access to the internal components. The transparent design also allows the internal structure of the scooter to be displayed. At its core, the 04Gen concept is a basic two-wheel scooter fancied up.
Since the design is a concept, Yamaha is mum on most details of the scooter. It has a combustion engine, but we don't know how large. Smaller engines power most scooters. The scooter does have a monocoque frame similar to the basic structure of a Vespa. Yamaha's concept also has a single shock absorber on the left and a single-sided swing arm.
The front suspension is different from the scooter norm; it uses something called an Earles fork. That design has two shock absorbers on the front and a triangular pivot, an old design seen as far back as the '50s. The brakes for the scooter are different as well with discs enclosed in the hubs at the front and rear wheels. Yamaha has announced no plans to put the 04Gen scooter concept into production. There is also no mention of any of the cool parts the scooter uses making it to production models.
SOURCE: Gizmag