Yamaha unveils TSX-70 and TSX-W80 iPhone alarm clocks in Japan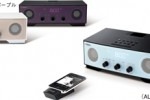 I'm not sure what gives with all the iPhone alarm clocks/speaker docks that have turned up this week. All of the sudden there is a plethora of them hitting the market. Today Yamaha unveiled a couple iPhone/iPod docks of its own called the TSX-70 and the TSX-W80.
The TSX-70 is the more basic of the two and has an old school design that looks like something out of the 1950's to me. The dock is compact and designed to sit at the bedside. It will be offered in white, brown, and blue colors and has an integrated subwoofer. The device has 4W of power for each satellite and 8W for the sub along with an integrated AM/FM tuner and more.
The TSX-W80 is the most interesting of the pair and has a wireless dock that can stream music from your iPod to the speaker dock allowing you to keep the iPhone close to view album art. Other than the wireless dock the specs are pretty much the same as the TSX-70 with an AM/FM tuner and alarm functions. A wireless sub is available for both units. Pricing is unknown as is availability outside of Japan.