Yamaha debuts MusicCast multi-room audio system with support for lossless formats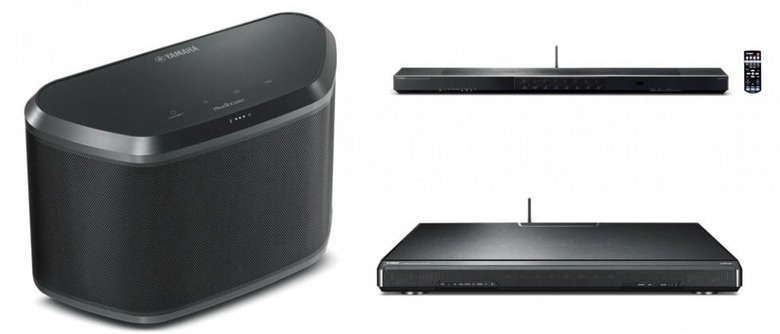 Yamaha has just announced it's getting into the multi-room audio system market with its new MusicCast system, complete with support for several lossless music formats. The company says it is introducing MusicCast with integration into more than 20 products, including all but one of their receivers for 2015, along with sound bars, monitors, and speakers. The system will support streaming from a number of sources via WiFi and Bluetooth.
MusicCast differs from other multi-room music systems, like those from Sonos, in that it offers support for five lossless audio formats, including FLAC, WAV, Apple Lossless, AIFF, and native DSD streams up to 5.6 MHz. In addition to streaming a users' music library from either their smartphone or networked computer, sources like Spotify, Pandora, SiriusXM, and Rhapsody can be used.
One of Yamaha's first products to debut with the new system is the entry-level MusicCast Wireless Speaker, priced at $250 and shipping in mid-September. The multi-direction speaker comes in black or white colors, and all audio playback can be controlled with the MusicCast app for iOS and Android.
Unfortunately for those with existing Yamaha products, it doesn't sound like a MusicCast dongle or adapter is on the way. The company mentions that more supporting products will be announced in the coming months, including the YSP-1600 sound bar in September for $500, and the YSP-5600 sound bar in December for $1,700.
SOURCE Yamaha