Yamaha A-S2000 amp and CD-S2000 CD player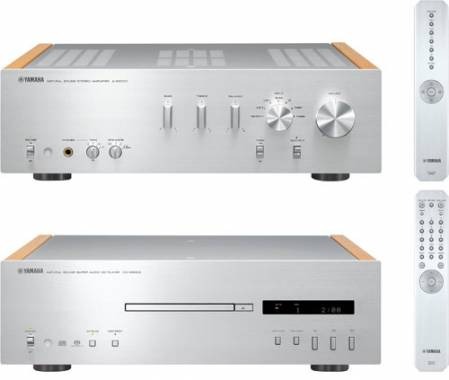 Yeah, these are definitely not for the shallow pocketed or those that usually can't hear the difference between a pair of iPhone ear-buds and a pair of high-end Sennheisers. But if you do like simplistic external design, with top of the line components inside, well Yamaha might not be your first choice, but this is some pretty nice gear for uner $2000 each.
The CD player has a TI PCM-1792 DAC in it so you can get the best quality analog signal from your newly purchased Atmosphere album (coming soon, I can't wait), I mean just imagine hearing Ant's beats out of this pair with some nice speakers attached. The amp has separate amplifiers and power supply inside so the two don't combine to create the comparably nasty sound of a shelf stereo or something of that nature.
The amp offers up 190 watts per channel for who knows how many channels, but the sound will be pure and clean. The amp will cost you $1834 and the CD player will run you $1466 and will drop on the Japanese market some time in mid-December.
Yamaha Aims High With CD-S2000 CD Player and A-S2000 Amplifier [via gizmodo]