Yahoo reclaims top web property spot from Google in ComScore US report

For the first time in over two years, Yahoo came in at number on on ComScore's list of Top 50 US Web Properties. The list, which was just released today, is a bit of a surprise, as Yahoo hasn't claimed the top position since May 2011. While initial speculation made it seem like the acquisition of Tumblr had something to do with this boost, that is not the case.
Yahoo has still held on strong at the top of the list, claiming position two or three, several times in the past few months but they hadn't reclaimed the top spot until this month. Yahoo also currently has the top Ad Focus ranking score, which measures a site's reach online.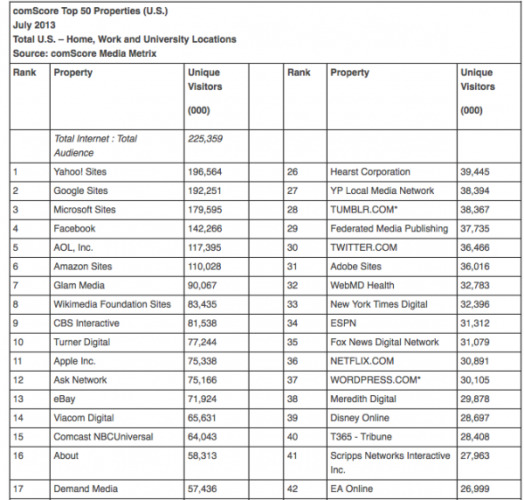 It's hard to pin down why the sudden increase in Yahoo's popularity. Marketing Land initial speculated that the Tumblr acquisition had a lot to do with it and that some of the site's traffic was counting underneath the Yahoo umbrella. However, Tumblr is actually on the list on its own, claiming the 28th spot.
Later on, a statement from ComScore noted that none of Tumblr's traffic has been combined with Yahoo's and that another unknown factor is playing into the sudden boost. They added that it is likely just a normal seasonal fluctuation, as both Google and Yahoo have had very close numbers over the past few months.
VIA Marketing Land