Yahoo! Q3 earnings total $1.2bn, exceed expectations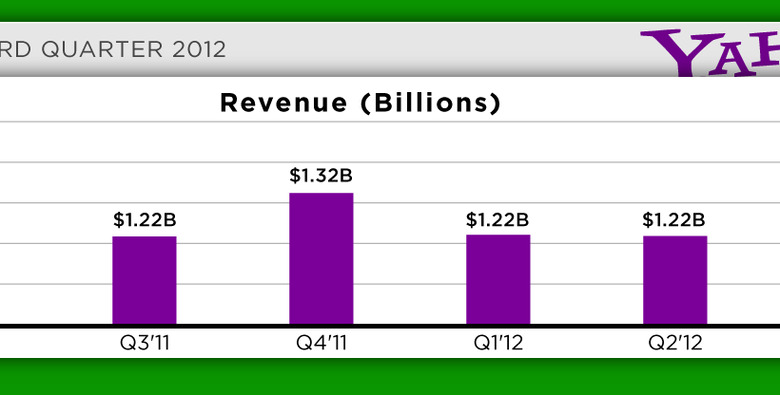 Yahoo's Q3 financial results were published today, revealing $1.2 billion in GAAP revenue. This was CEO Marissa Mayer's first full quarter at the company, and in the press release she stated, "Yahoo! had a solid third quarter, and we are encouraged by the stabilization in search and display revenue." Overall, the reported numbers were higher than expected.
Wall Street analyst had believed that Yahoo's EPS would be $0.26, and it's revenue would be $1.08 billion. The actual Q3 numbers exceeded this, clocking in at $0.35 earnings per share, and $1.2 billion in revenue. This is a slight drop from the last quarter's revenue of $1.22 billion. The company made $1.217 billion in Q3 of 2011.
Said Mayer, "We're taking important steps to position Yahoo! for long-term success," something the company has demonstrated in recent years. Presently, the company employs 12,000 workers, which is 12% lower than the 13,700 of last year. According to Tech Crunch, the company bought back $190 million in shares during this quarter.
In addition, Yahoo! made $2.8 billion in Alibaba share sales, and $16 million in restructuring charges. This makes the GAAP EPS $2.64, versus $0.35. Yahoo didn't factor this revenue in, however, stating that it was "not meaningful." Overall, the company's revenue is still low when based on operational income.
[via Tech Crunch]