Yahoo launches new email web client, also coming to iOS, Android, and Windows 8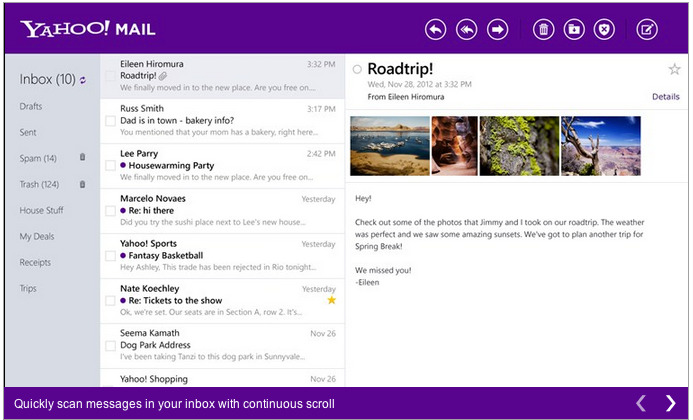 Yahoo may no longer be your primary choice for email service, but the fact is that millions of people still use it, and to keep their email service relevant and up-to-date, Yahoo has upgraded the interface and added some performance enhancements, as well as released new iOS and Windows 8 apps, while updating their existing Android app.
Yahoo CEO Marissa Mayer announced the new features and changes herself in a blog post. She says that Yahoo's new mail client focuses on minimizing distractions and speeding up the interface in general. This alone should be enough to make long-time Yahoo Mail users happy. Mayer says that the update is aimed at those who "want to quickly login, communicate, and get on with [their] day."
Yahoo has redesigned the inbox to make it more intuitive and easier to navigate, and the new mobile apps for iOS and Windows 8, as well as the existing Android app, now all have the same interface, giving the service a consistent look and feel across all devices. This should give users an user-friendly experience no matter what platform they're on.
The new Yahoo email experience should roll out for web users "over the next few days," while the iOS and Windows 8 apps are available now. The updated Android app has yet to show up in Google Play, though. Unfortunately for iPad users, though, the iOS app is only available for the iPhone and iPod touch.