Yahoo! Connected TV Platform Accepting Paid-Widget Submissions For March 2011 Launch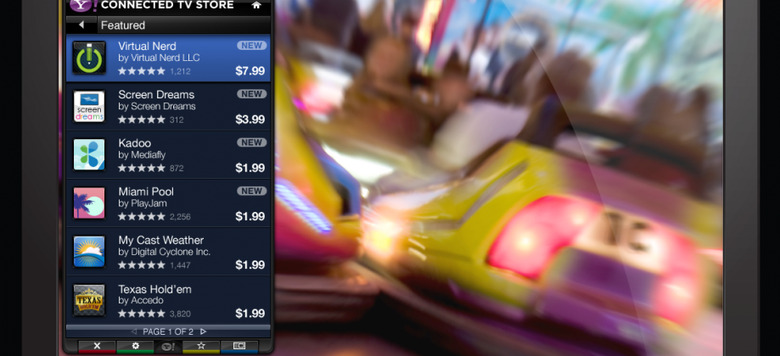 Yahoo! has thrown open the doors to developers wanting to submit paid apps to its upcoming Yahoo! Connected TV platform. Set to launch in March 2011, the widget store will allow for TV-based interactive content on compatible HDTVs – Sony, VIZIO, Toshiba, Samsung and LG are all signed up – with developers able to price their apps from $0.99 to $99.
Developing an app is apparently as straightforward as signing up to Yahoo!'s Connected TV Widget Developer Program and downloading the WDK; paid apps are created just the same as free ones, with no new developer APIs. As with Apple's App Store, developers get 70-percent of the revenue, and Yahoo! handles all the payment processing and other management. Initially only one-time payments will be supported, rather than in-app payments.
The paid-apps program will be available to developers and publishers in the US, UK, Germany, Spain, Sweden, France, Canada and Australia initially, with Yahoo! looking to expand that list at a later stage. Already the company has Kadoo, PlayJam, Virtual Nerd, ScreenDreams, Accedo Broadband and MyCast Weather signed up to produce widgets.