XtremeMac Tango TRX iPod dock doesn't actually demand docking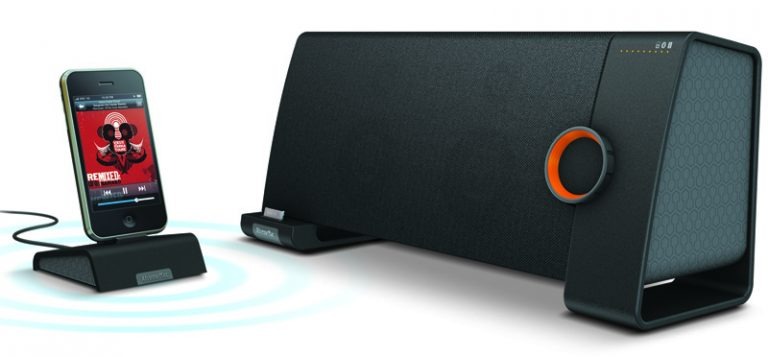 We're seeing a growing trend in iPod speaker docks to take advantage of the recent models' Bluetooth support, and that's just what XtremeMac's Tango TRX delivers.  You can still dock your iPhone, iPod touch or even your iPad at the front, but alternatively you can pair it via Bluetooth 2.1 and beam your music over wirelessly.
XtremeMac also offer a free remote control app which allows you to tweak the audio as well as adjust the various EQ settings.  There's also a line-in jack for using other PMPs, while the speakers themselves consist of two midrange drivers, two dome tweeters and a downward firing subwoofer.
Two versions are on offer, the basic model at $179.99 and an Apple exclusive version, the Tango TRX D.  That adds a separate charging dock for your iPod/iPhone/iPad (though we imagine the latter would be more than a little precarious).
Press Release:
XtremeMac™ Unveils Tango TRX – the Superior Bluetooth Audio Solution for iPod, iPhone and iPad

Download the free Tango TRX app for enhanced functionality

Sunrise, FL – September 14, 2010 – XtremeMac™, a leading designer and manufacturer of accessories and audio solutions for Apple devices, is pleased to announce a prestigious new audio solution for Apple users. The Tango TRX is a 2.1 wireless high-fidelity audio system for iPod, iPhone and iPad. It combines superior sound quality, wireless audio connectivity, sleek design and an exclusive app to create a unique and powerful listening experience.

The elegantly designed Tango TRX allows users to wirelessly transmit high quality audio through the latest Bluetooth technology. It boasts a 2.1 digital audio system that includes two midrange drivers, two dome tweeters and a downward firing subwoofer for crystal clear and dynamic sound. Tango TRX features LED status indicators for system feedback, a line-in jack for connecting other audio devices and a multifunction remote control.

The free XtremeMac Tango TRX app seamlessly integrates with the unit for enhanced control and functionality. With the Tango app, users can control music directly from their iPod, iPhone, or iPad, turning any of these devices into a virtual remote which appears as a digital version of the included physical remote. The app also provides a five-band graphic equalizer that enables customers to fine tune sound or select music by genre.

The Tango TRX is available now for $179.99 US MSRP at www.XtremeMac.com. An Apple store exclusive version (Tango TRX D) includes a separate charging dock which enables users to charge their device while wirelessly playing music to the Tango TRX. The Tango TRX D is available now at Apple for $199.99 US MSRP.