XPod Active Speakers: tiny portable stereo audio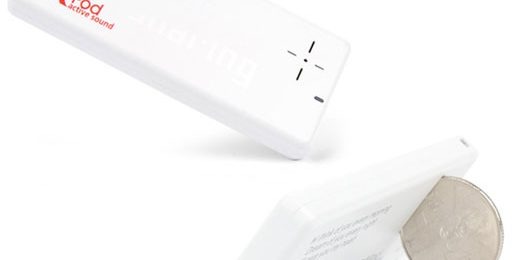 High-fidelity is all well and good, but there are times when you care less about quality and more about portability.  The XPod Active Sound speakers definitely cater to the latter scenario: measuring 3.07 x 1.34 x 0.33 inches they're stuffed full of two piezoelectric speakers and a stereo 770mW amplifier.
That means they're about the size of a new iPod nano, just louder.  The internal rechargeable battery is juiced up via a USB connection, and audio input is a sole 3.5mm socket.  Neatest design feature is the coin-groove at the back, which lets you prop up the XPod speakers.
You also get a color-matched lanyard to dangle the speakers from around your neck, guaranteed to annoy other travellers on any method of public transport you select.  Sadly only those in Korea will have the opportunity to be annoyed; no word on whether the XPod Active Sound speakers will make it elsewhere.
[via technabob]