Xoom WiFi tablet gets the official IML77 Android ICS update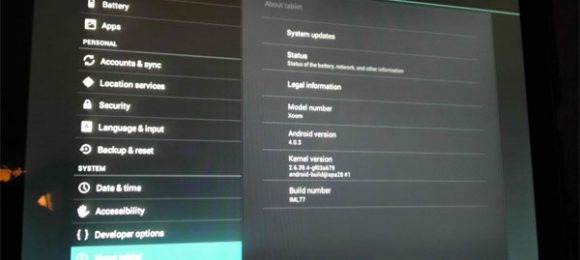 If you own one of the Motorola Xoom WiFi tablets, you can now get the official update called IML77 that brings Android 4.0 Ice Cream Sandwich to your tablet. The update had rolled out previously to a handful of Xoom owners who had signed up for the Motorola Feedback Network for some final testing. The update is now available for the public, at least in the US.
XDA-Developers also has those that want a pre-rooted stock version of the update covered. The update for the Xoom WiFi is over a week after the update landed for the Asus Transformer Prime tablet. It's interesting that the Asus tablet got the update before the Xoom considering the Xoom was a Honeycomb reference tablet and runs the full Google Experience.
Perhaps this is because the Transformer Prime is more of an ICS reference platform. It seems that for now the update is only hitting US Xoom tablets according to posters in the XDA forums talking about the update. If you have the update applied, let us know how it works for you.
[via XDA-Developers]