Xiaomi's 100W Super Charge Turbo isn't coming any time soon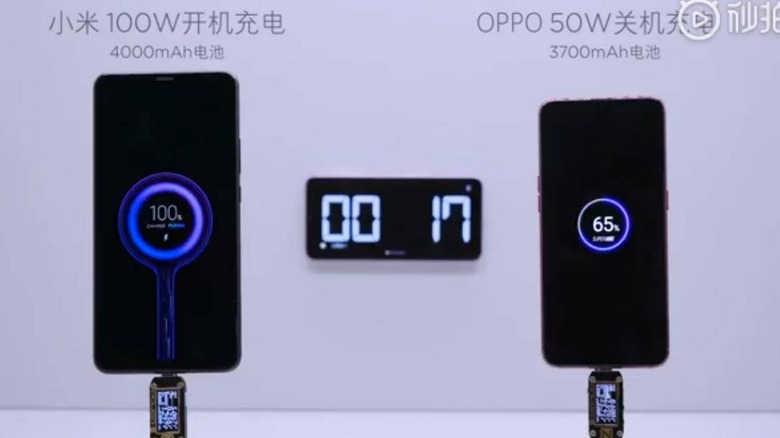 It's not uncommon for companies to boast about technologies they're working on, especially if they stand a chance of beating everyone else to the finish line. It also isn't uncommon for some companies to oversell such future technologies, leaving their own fans hanging and disappointed. Xiaomi may be finding itself in that exact position now that its own vice-president has admitted that the scary-fast 100W charging technology it showed off still has a few major hurdles to overcome before it is ready to be safely used in smartphones.
Xiaomi wowed the mobile industry in March last year when it showed off what is, even to date, the fastest charging system for smartphones. Using 100 watts of power, it demonstrated how a phone with a 4,000 mAh battery pack can be charged from zero to full in just 17 minutes. Its nearest competitor at that time was OPPO's 50W SuperVOOC which charged the OPPO RX17 Pro's 3,700 mAh battery to 65% only under the same duration.
Almost a year later, that technology is still nowhere to be seen. Company VP Lu Weibing explains that there are at least five missing pieces before it is ready. Those are:
- Battery Capacity Loss: He said that with faster charging speed, the battery capacity loss is also greater. It is estimated that with 100W fast charging, the battery capacity loss is about 20 percent compared to a 30W PD fast charge. Thus, the 5,000mAh battery becomes 4,000mAh battery practically.

- Technology Architecture: He has not revealed much about this aspect but has said that it requires ultra-high voltage charging scheme.

- Performance: While working on this technology, the company planned about how to make 100W charging not only technically accessible, but also ensure long and sustainable charging time.

- Security: It will be offering multiple security features in the device with support for 100W charging, such as motherboard, battery, overcharging, voltage, etc.

- Multiple Charging Scenarios: The company has also considered capability with regards to multiple charging scenarios such as wired charging and wireless charging.
The first one alone is already terrifying considering that smartphone batteries today are no longer as easily replaceable as they were five or so years ago. Then there is the matter of safety, considering the rather high amount of power that will be coursing inside the phone. In other words, it's far from being ready for prime time.
Still, Weibing is optimistic the company can pull it off "in the near future", which is anything from the next few months to the next few years. That gives rival OPPO enough time to build on its already existing 65W SuperVOOC 2.0 and perhaps beat Xiaomi to the punch.