Xiaomi reveals Surge S1 SoC alongside Redmi 4X, Mi 5c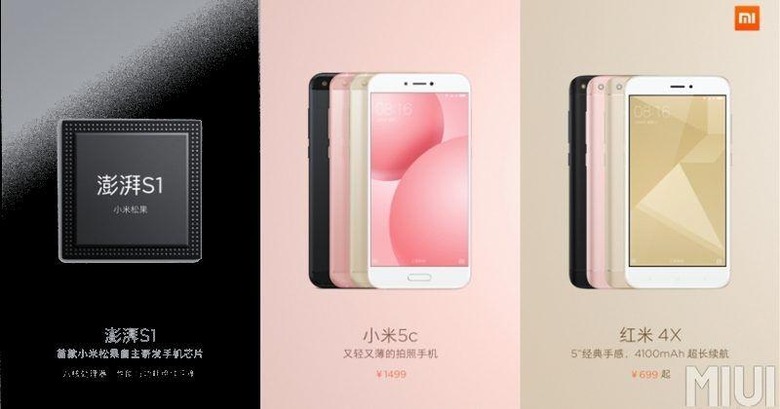 As promised, Xiaomi unveiled at MWC 2017 its first in-house application processor or SoC, the Surge S1, along side the first smartphone to be powered by it, the Xiaomi Mi 5c. It will probably be a while before we see it in action in the real world, but, for now, we have to take Xiaomi at its word. Amusingly, it has also announced the Redmi 4X that is powered by a different processor that Xiaomi is painting to be inferior to its Surge S1.
The Surge S1 is a 64-bit octa-core processor, made up of 8 Cortex-A53 cores clocked at 2.2 GHz and 1.4 GHz. Xiaomi is pitting its first ever in-house chip against the lower mid-range selection of other chip makers, like Qualcomm's Snapdragon 625 and both MediaTek's P20 as well as its P10. The Surge S1 is capable of handling dual image signal processors or ISPs, making it suitable for dual camera phones. The first Surge S1 phone, however, doesn't have that.
The Xiaomi Mi 5c, despite its mid-range specs, will go down history as the first smartphone to bear Xiaomi's own processor. The phone itself isn't exactly impressive and many will probably quickly point out how it looks terribly like an iPhone, which isn't really out of character for Xiaomi. It has a 5.15-inch display of unknown pixel resolution, which will presume to be at most 720p. There's 3 GB of RAM and 64 GB of storage, with no note on whether there's a microSD card slot or not. Xiaomi is putting a lot of focus on the imaging capabilities of the Mi 5c, admittedly one of the hardest to get right. That said, the 12 megapixel "ultra light-sensitive" camera doesn't boast of the buzzwords you'd commonly here these days.
The Xiaomi Redmi 4X is a bit more traditional, for those who prefer the comforts of familiar specs and features. This one runs on a Qualcomm Snapdragon 435, well below the Surge S1 mark, which also brings it down to the lower end mid-range tier. There's a configuration for 2 GB of RAM with 16 GB of storage and one for a 3 GB and 32 GB pair. The screen is a 5-inch 720p panel. The front of the Redmi 4X doesn't have much except bezels, with the fingerprint scanner located at the back. The cameras are made up of a 13 megapixel f/2.0 PDAF shooter on the back and a 5 megapixel f/2.2 selfie cam on the front.
The Xiaomi Redmi 4X is your typical entry-level Android smartphone, with matching prices. The 2 GB + 16 GB model goes for 699 RMB ($102) while the higher 3 GB + 32 GB one is priced at 899 RMB ($130). The Surge S1-powered Xiaomi Mi 5c, on the other hand, will cost 1,499 RMB ($218).
VIA: MIUI Forums