Xiaomi Mi Mix might be coming in white soon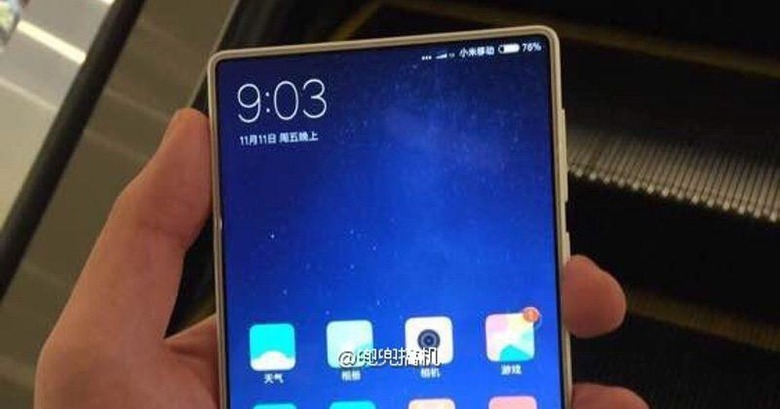 Xiaomi unveiled its Mi Note 5 phablet last month, but that was immediately upstaged by the Mi Mix that was announced alongside it. After all, how can one not be curious about a smartphone that boasted of a near bezel-free design, with 91.3% of its face dedicated to the screen and the screen alone. While we await word of a smaller version, if that is indeed a thing, Mi Mix believers might be in for a treat. Leaked photos of a Mi Mix dressed in ceramic white has surfaced and noted to be on its way to make it even more obvious at a glance that your phone practically has no bezels.
Actually, the Mi Mix does have bezels, with the most prominent one at the bottom, necessary to house some components, not to mention a front-facing camera. It could be the closest we'll get to having barely any bezels, until the day design and engineering have figured out how to hide those as well.
A Mi Mix in white is a double-edge sword. Compared to the black version, a white frame even more calls attention to the fact that you almost don't have any bezels left around the screen. At the same time, because of that increased scrutiny, the flaws of the Mi Mix also come to light. There are still bezels besides the bottom one, and they are more clearly visible in this white variant. Perhaps worse is that there is still a strip of black around the screen, which results in an admittedly unflattering appearance.
In addition to the bezel-less appearance, the Xiaomi Mi Mix is also a high-end smartphone sporting a Qualcomm Snapdragon 821, 4 or 6 GB of RAM, and a giant 6.4-inch 2040x1080 display. The device is still available only in China, at least officially, and comes with a rather high price tag as well: $869.
VIA: Weibo