Xiaomi Mi Mix 2S makes a play for the camera crown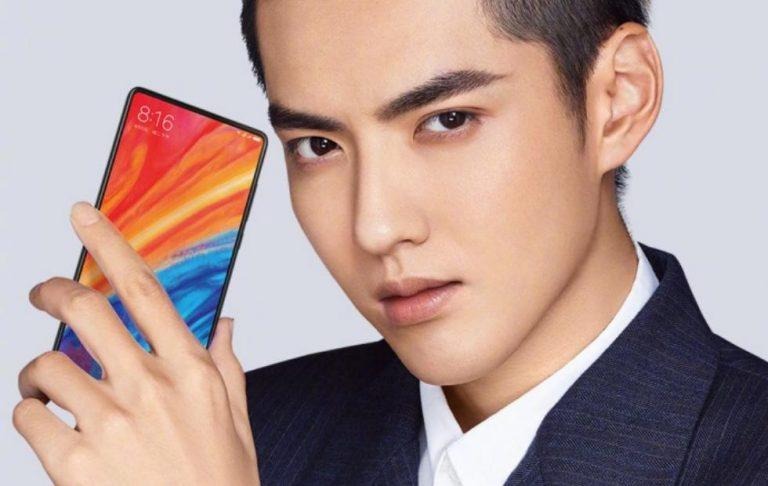 Xiaomi may have started the whole bezel-less craze but it has now been overshadowed by the giants. With the Mi Mix 2S, it's trying to play a different game, a game that the giants themselves are already playing. Now, Xiaomi is putting an even bigger emphasis, both in hardware and in marketing, on the smartphone's dual cameras. And while it might not be at the very top of DxOMark's list, the Xiaomi Mi Mix 2S is at least rubbing shoulders with the who's who of smartphone cameras.
The bezel-less design of the Xiaomi Mi Mix 2S was one of the most speculated aspects of the third-gen phone. And so it's almost ironic that it turned out to be the least significant. There is, thankfully or not, no notch to be found and simply carries over the design of last year's Mi Mix 2. In that sense, you could say it's a second and a half generation phone.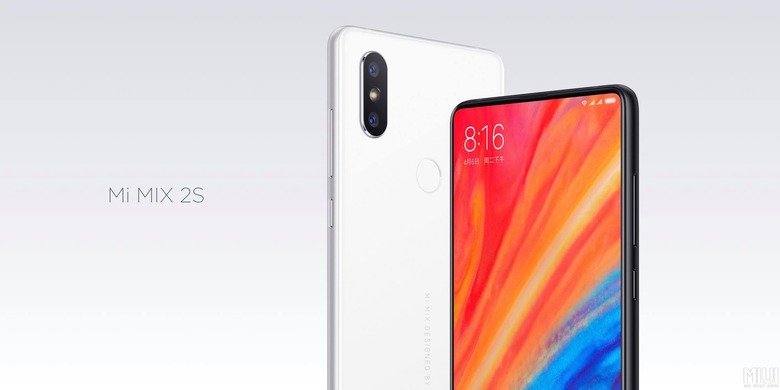 The basic specs are also somewhat common, at least by early 2018 standards. You do get the latest Qualcomm Snapdragon 845, up to 8 GB of RAM and 256 GB of storage, that same full screen display of the previous Mi Mix phones, and a front-facing camera at the bottom bezel. Hinting once again at its friendlier relationship with Google, Xiaomi boasts that the Mi Mix 2S is the first smartphone in China to officially support ARCore.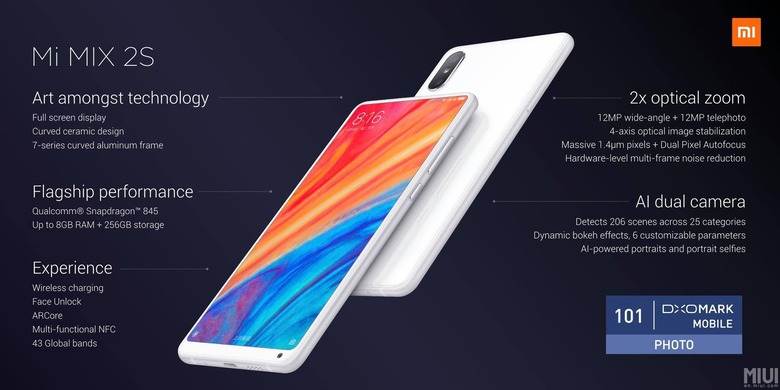 Xiaomi, however, is betting big on the Mi Mix 2S' cameras. That's two 12 megapixel sensors with an f/1.8 aperture and 4-axis optical image stabilization, among other features. It is also particularly proud of its AI-powered scene detection, bokeh effects, and portrait modes. The company has found a believer in DxOMark, who gives it one of the highest scores for still photos and ranks the Mi Mix 2S in the top 5 on its list.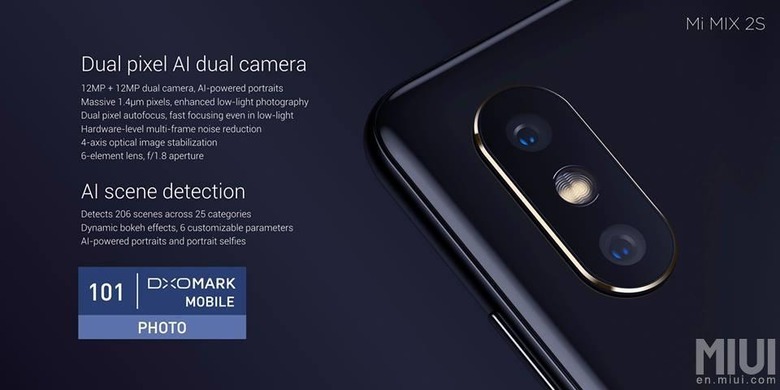 Of course, all of that might not matter for US consumers, who are still being snubbed by Xiaomi's absence in the country. That despite the Mi Mix 2S flaunting support for 43 bands in 226 regions across the world. Xiaomi did hint they might finally make a move late this year, and the Mi Mix 2S might be one of the first to be made available.
VIA: MIUI Forums