Xiaomi Mi Mix 2 has a little more screen
Xiaomi just held its Mi event in China and, unsurprisingly, the Mi Mix 2 was one of the stars of the show, along with a new Mi Notebook Pro laptop. Much of the leaks have been spot on, not that there's much else to be expected. But if you were expecting another revolution, you might come away disappointed. The good news is that the Mi Mix 2 has indeed more screen, even just a little, than its predecessor but at an even smaller total body size.
The first Mi Mix had a 6.4-inch display with a resolution of 2040x1080. The Mi Mix 2, on the other hand, comes with a 5.99-inch screen with a Full HD+ resolution of 2160x1080. That's the same 18:9 resolution that the LG G6 boasts of, except starting at Full HD instead of QHD. Xiaomi, in fact, boasts that it was actually responsible for convincing Google to allow the unconventional aspect ratio in the Android compatibility requirements, a ratio that LG and Samsung would later adopt as well.
The Mi Mix and its kind has changed and broken the way we look at our screen sizes. So to compare with what we're used to, Xiaomi says that the Mi Mix 2 would be the equivalent of a 5.5-inch phone with a more conventional 16:9 screen. Xiaomi was able to achieve such a design by reducing the space that the bottom bezel occupies. Yes, the bottom lip is still there but it is still the only bezel around the phone's face. At first glance, you might think very little has changed and, indeed, little has, both outside and within. The good news is that Xiaomi didn't have to further reduce the already measly 5 megapixel front camera there. What has changed is that the Mi Mix 2 uses a technology called "chip on film" which allowed Xiaomi to hide the screen's driver behind the display panel rather than at the bottom. Because of these space savings, the Mi Mix 2 has a 12% smaller lip than its predecessor.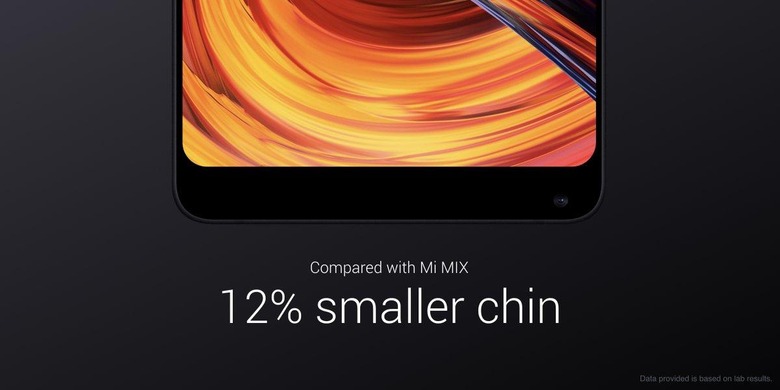 Aside from the screen, the Xiaomi Mi Mix 2 is what you'd expect from a 2017 Xiaomi flagship. It is powered by a Qualcomm Snapdragon 835 and has 6 or 8 GB of RAM, with 64, 128, and 256 GB storage choices. Another point of disappointment might be the main camera, which is a lone 12 megapixel sensor with an f/2.0 lens aperture. The Mi Mix 2 boasts of 43 LTE bands used around the world but Xiaomi was careful not to make any mention of the US.
• CPU: Qualcomm Snapdragon 835• RAM: 6 or 8 GB• Storage: 64, 128, 256 GB UFS 2.1• Display: 5.99-inch 2160x1080 Full HD+, 18:9• Main Camera: 12 MP, f2.0, OIS• Secondary Camera: 5 MP• Battery:
Xiaomi is notorious for its dirt cheap prices, but it may have gone overboard with the Mi Mix 2. Whereas last year's Mi Mix launched with a 3,499 RMB ($540) price tag for a 4 GB RAM, 64 GB ROM model, the Mi Mix 2 is starting at 3,299 RMB ($510) with 6 GB of RAM and 64 GB of storage. A 128 GB model will cost 3,599 RMB ($550) while a 256 GB model goes for 3,999 RMB ($615).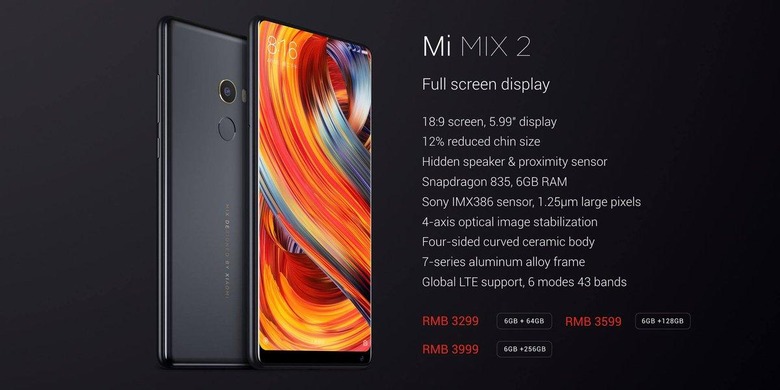 But if you find that too low for your tastes, Xiaomi is also putting out a limited edition model for 4,699 RMB ($720). It's difference? Aside from having 8 GB of RAM, this all white or all black Mi Mix 2 sports a full, not metal, but ceramic unibody shell. It looks like, and priced almost like, jade.