Xiaomi Mi Max is here, large, and unsurprisingly affordable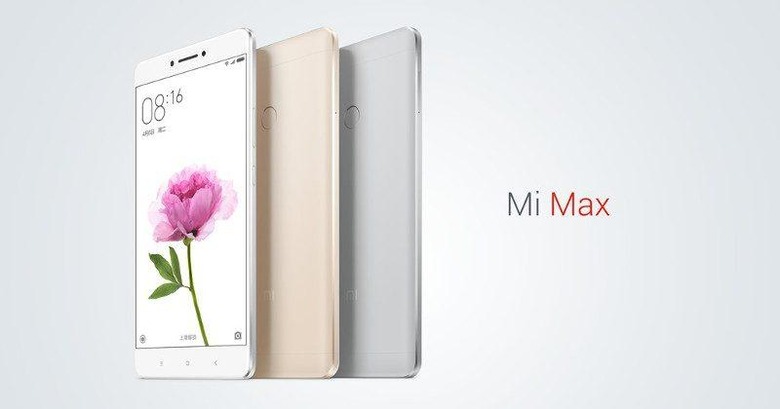 The Mi Max is pretty much as we've heard the past weeks and is indeed a 6.44-inch phablet that Xiaomi claims can comfortably fit in pockets. How, we still have to figure out. Xiaomi spends a lot of its time trying to explain why you'd want a smartphone this big or how the Mi Max trumps the iPhone 6s Plus in so many aspects. Intentionally or not, it's an indirect admission of the iPhone as the gold standard.
Xiaomi's spiel mostly revolves around how you can see more information on its 6.44-inch screen. Xiaomi conveniently leaves out any mention of the pixel resolution, which is pretty much 1080p only. It could have negative effects, like making pixels more visible. At that large screen size, quality could also be affected.
Despite the size, the Mi Max is boasted to be only 7.5 mm thin. It's 2.5D design supposedly makes it easy t hold in one hand. And a new one-handed use introduced in MIUI 8 makes it also easier to operate with one hand. And despite that thinness, the Mi Max boasts of a 4,850 mAh battery, which Xiaomi happily notes is 76% more than the iPhone 6s Plus. That, plus MIUI 8's promised power optimization, is how Xiaomi is able to promise a full day of battery life.
As for actual specs, the Mi Max runs on a Qualcomm Snapdragon 650 or 652, which Xiaomi stresses is more than good enough. Interestingly, Xiaomi has chosen to splurge on memory instead, with 4 GB of RAM and a surprisingly generous 128 GB of storage. There's a 16 megapixel PDAF camera on the back and a 5 megapixel wide-angle front camera.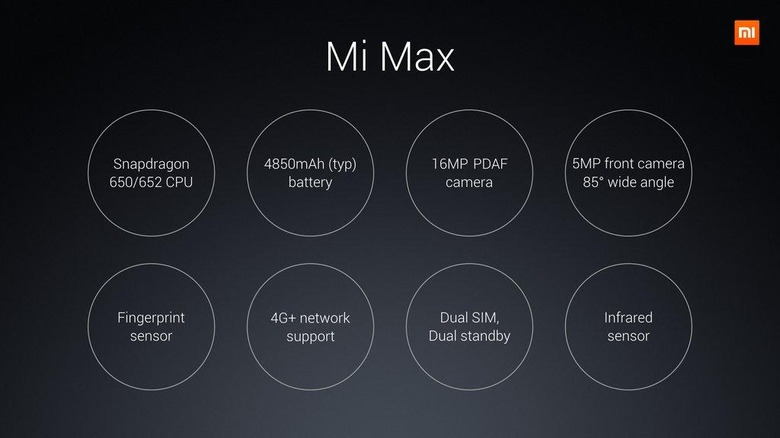 The Xiaomi Mi Max will be available in Silver, Gold, and Dark Grey colors. In typical Xiaomi fashion, the price is insanely low in comparison, 1999 RMB only, which is roughly $310. Suffice it to say, except for the screen resolution and processor, the Xiaomi Mi Max could give many of its rivals, including giants like Samsung and HTC, a run for their money. There are other configurations, of course. At the very bottom you have a 3 GB RAM and 32 GB combo with a Snapdragon 650 for 1,499 RMB ($230). A little up is a 3 GB RAM and 64 GB model running on a Snapdragon 652 for only 1,699 RMB ($260). The highest configuration mentioned above has 4 GB of RAM, 128 GB of storage, and is powered by a Snapdragon 652.