Xiaomi Mi Box 3 Enhanced Edition gets a Wiimote-alike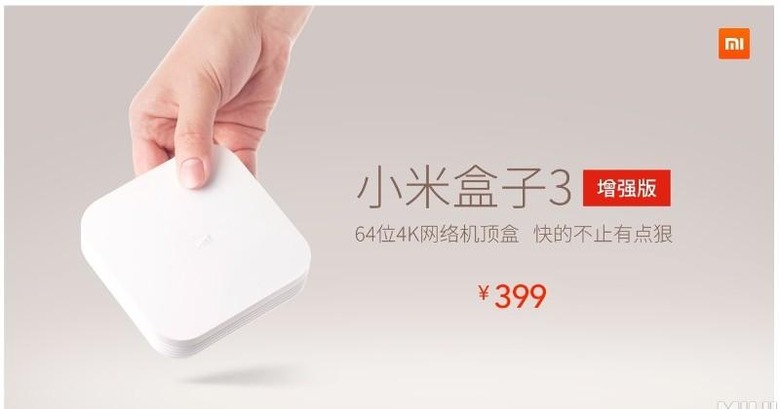 It's been quite a while since we've last heard of a Xiaomi Android set-top box but it seems that the Chinese OEM isn't yet read to put a fourth gen device out there yet. Instead, it has revamped the Mi Box 3 and is launching it as a Mi Box 3 Enhanced Edition. In addition to the slight spec bump, the box gets a new remote control that will undoubtedly remind you of the Wii Remote that made Nintendo's gaming console quite popular back in the days.
But first, let's get down to the specs. The insides have changed substantially, perhaps enough to even consider this a Mi Box 4. The processor has been upgraded to a MediaTek MT8693, a 64-bit hexa-core processor running at 2 GHz max, up from the quad-core setup of last year. RAM has also been doubled to 2 GB LPDDR3 and storage is now 8 GB. Together with the PowerVR GX6250 graphics chip, the Mi Box 3 Enhanced Edition is promised to be 80% faster in CPU processes and a whopping 240% better when it comes to the GPU.
Xiaomi thinks that the upgrade is so hot, figuratively and literally, that it put its own "unique cooling system", that adjusts the speed of the fan. Yes, this small TV box has a small fan inside.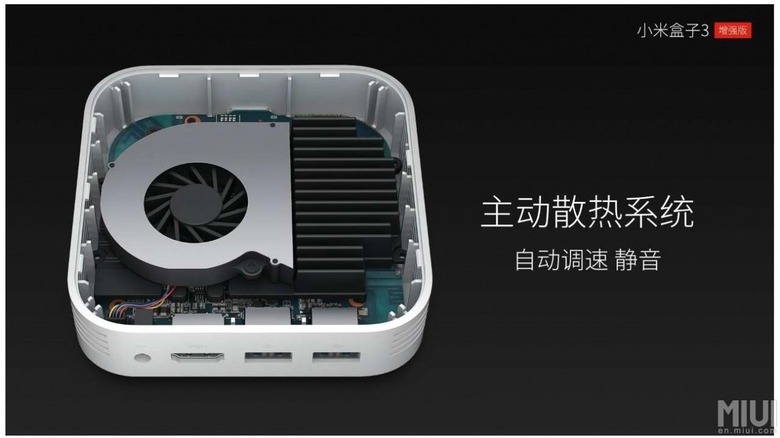 Perhaps the next, or probably even more, interesting upgrade is the remote control. Xiaomi has added a sensor inside, it says, that you can use to play games. Presumably, it means a motion sensor, which pretty much makes it like a Wiimote. The strap makes that even more evident. That said, there really aren't many Android games that could take advantage of swinging motions.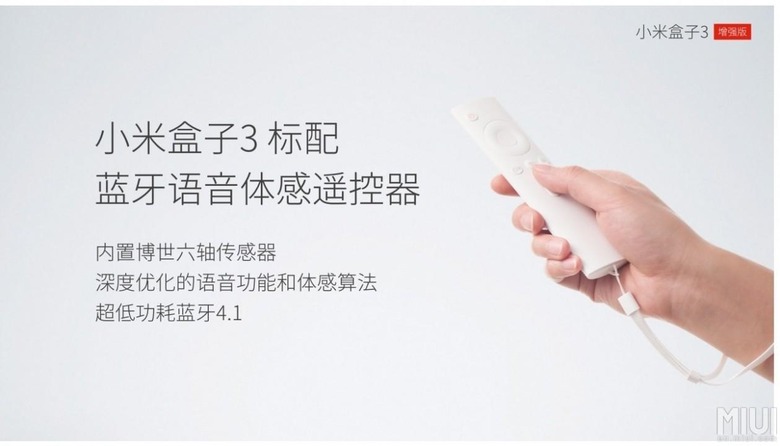 And yes, the Mi Box 3 Enhanced Edition is still an Android box, though not an Android TV one. It naturally uses the OEM's Android-based MIUI TV, which is based on Android 5.1. That could give it at an advantage of having access to apps that would normally be blocked on Android TVs because they weren't designed for it. All the rest of the Mi Box 3 EE's abilities are pretty much the same as its immediate predecessor, including support for H.265 10bit 4K 60p video output.
All this for 399 RMB, roughly $61. It's a bit more than the 299 RMB ($46) of the original, but considering the upgrades, it might worth the price bump.
SOURCE: Xiaomi