Xiaomi Mi 5 tops AnTuTu's Q1 2016 performance chart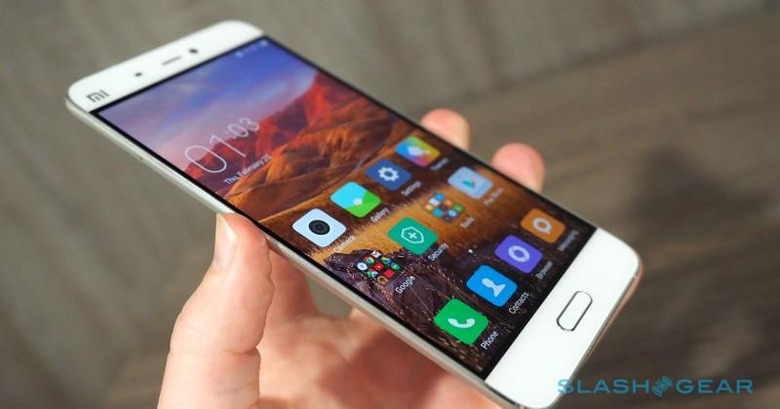 The first quarter of the year has come and gone and we've already seen a handful of smartphones make their way to the market. In addition to last year's latecomers, that makes up enough data for a smartphone muscle showdown. And who better to give the results than one of the most used benchmarking tools in the market, AnTuTu. Sure, there's still some debate on the value or even accuracy of such benchmarks. But, at least when used with the exact same tool under the exact same conditions. those scores could give some interesting results, like how the Xiaomi Mi 5 just barely surpasses the Samsung Galaxy S7 edge.
Let's get the raw numbers out of the way first. The Xiaomi Mi 5 may have gotten top marks with 136875 but the Galaxy S7 edge isn't that far behind with 134599. Also not that far away is the iPhone 6s Plus, which was the smartphone performance king last quarter. It was also the first time that an iPhone was included in the ranking since it was only recently that AnTuTu's benchmarking tool was made available for iOS.
The gap between the iPhone 6s Plus and the next spot, the Huawei Mate 8, is rather big, the latter with only a score of 91157. Next in line is the Meizu Pro 5 with 86322 and not far behind is one of last year's top contenders, the Samsung Galaxy Note 5, with 83364.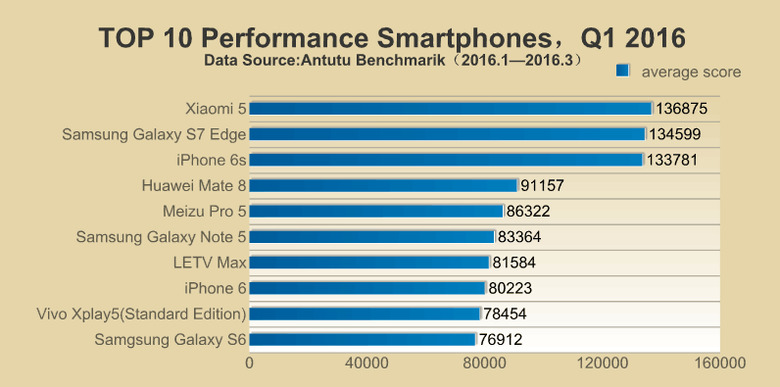 Xiaomi itself notes some caveats in the ranking of the smartphones, particularly those with the same processors. When CPU chips are similar, the next determining factor is the display. The more pixels to push, the harder the CPU has to work, the lower the score. That's why the 1080p Xiaomi Mi 5 beat the 2K Galaxy S7 edge, though both run on the same Qualcomm Snapdragon 820. Same story with the Meizu Pro 5 with a 1080p screen versus the Galaxy Note 5 with a QHD screen, both with the same Exynos 7420.
AnTuTu also observed how the Kirin chip is starting to catch up with the big boys in the market. The Kirin 950 in the Huawei Mate 8 easily trumped even the Exynos 7420, much less the Snapdragon 810 or even the Apple A8. It still has a long way to go to match even the Apple A9 though.
And in case you're wondering where the LG G5 is in all of this, the smartphone is absent from the list because it launched just this April, missing the first quarter cut. We'll have to wait for the second quarter numbers to see how the LG G5 as well as the HTC 10 fares in these benchmarks.
SOURCE: AnTuTu