Xiaomi Black Shark vs Razer Phone: Gaming mobile specs fight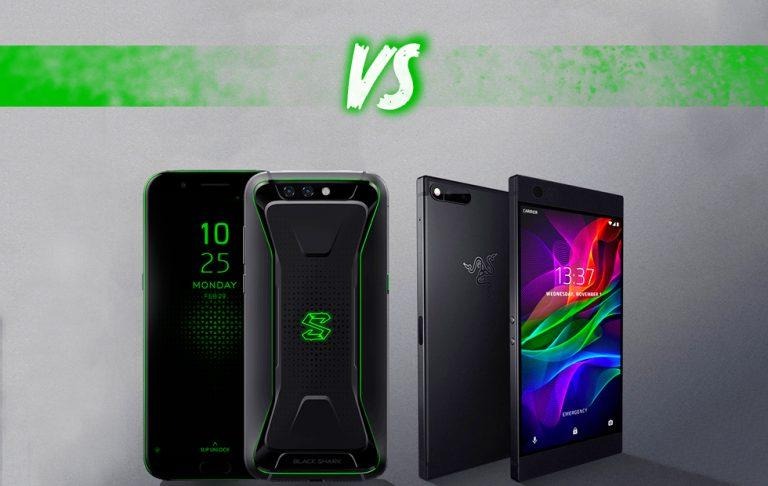 Fortnite's going to have a whole lot of hardware to roll on whenever it gets to Android. First the Razer Phone, now the Xiaomi Black Shark are both ready and raring to go at the dawn of this new mobile gaming renaissance. At this very moment we don't yet have access to the latter device – but we've got the specs, so you know what that means: pre-battle spec fight!!
The war, for now, can be fought on some fairly simple grounds. If you want a more pixel-dense phone, go with the Black Shark. If you want a phone with a higher refresh rate, go with the Razer Phone. If you want quick software updates, that's a bit more complicated question.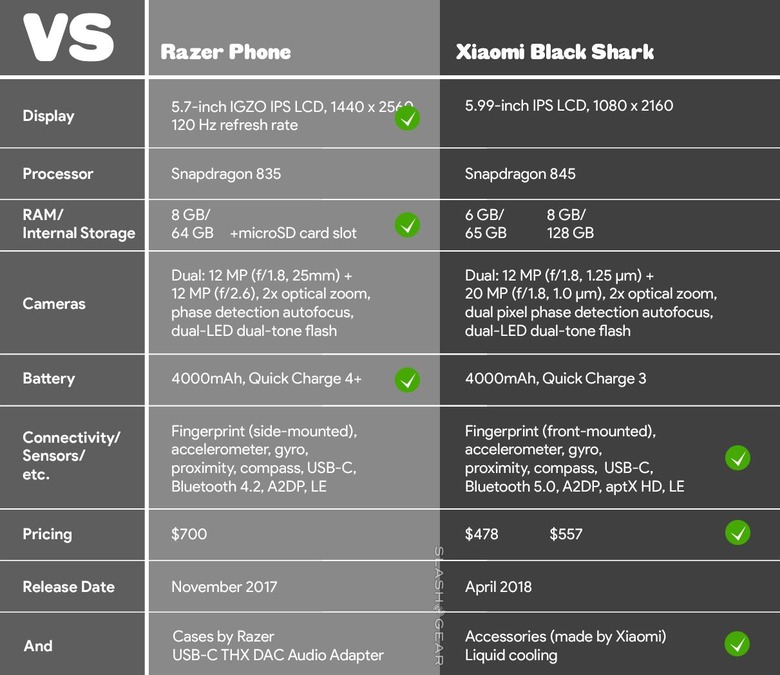 Above and below you'll see the relative sizes of the Razer Phone and the Xiaomi Black Shark. Size comparisons are approximated using given specs and official renderings. Behold, the similarities. Behold the extreme differences. The Razer Phone comes in at 158.5 x 77.7 x 8 mm (6.24 x 3.06 x 0.31 in) and 197 g (6.95 oz). The Xiaomi Black Shark sizes up to 161.6 x 75.4 x 9.3 mm (6.36 x 2.97 x 0.37 in) and weighs 190 g (6.70 oz). Razer Phone is shorter, wider, and skinnier than the Xiaomi Black Shark.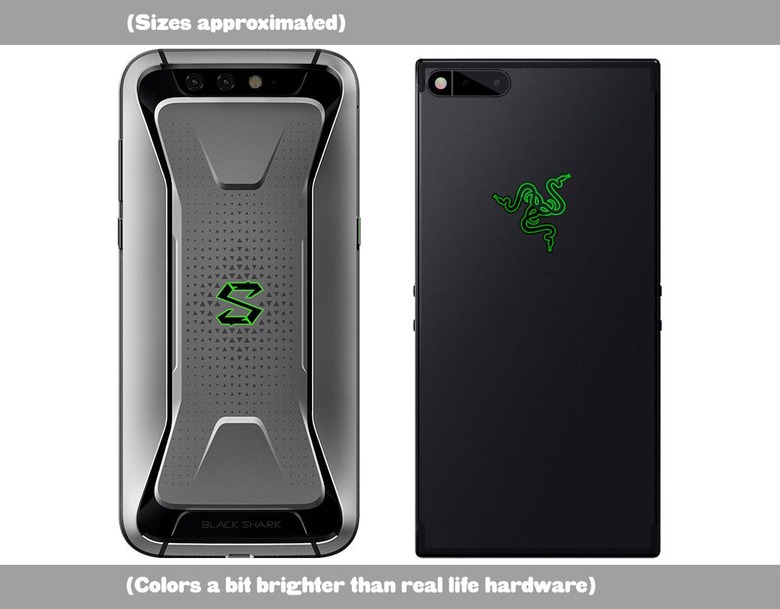 It's like there were two gaming phone concepts brought all the way to production and released at the same time by the same company, designed by two different groups. It's as if they're from different dimensions, but made by the same multidimensional game hardware designer. I'm getting chills in my guts.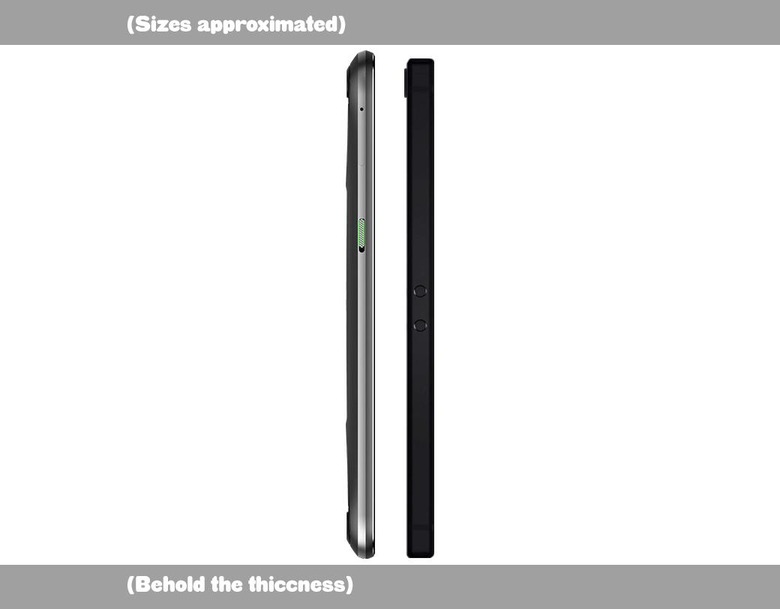 Since the Xiaomi Black Shark isn't out yet, we don't know how often they'll be updating its software. The Razer Phone is already up to a developer preview of Oreo after launching on Nougat in November. That's pretty good, considering the number of security updates all Android devices have had to push over the last few months.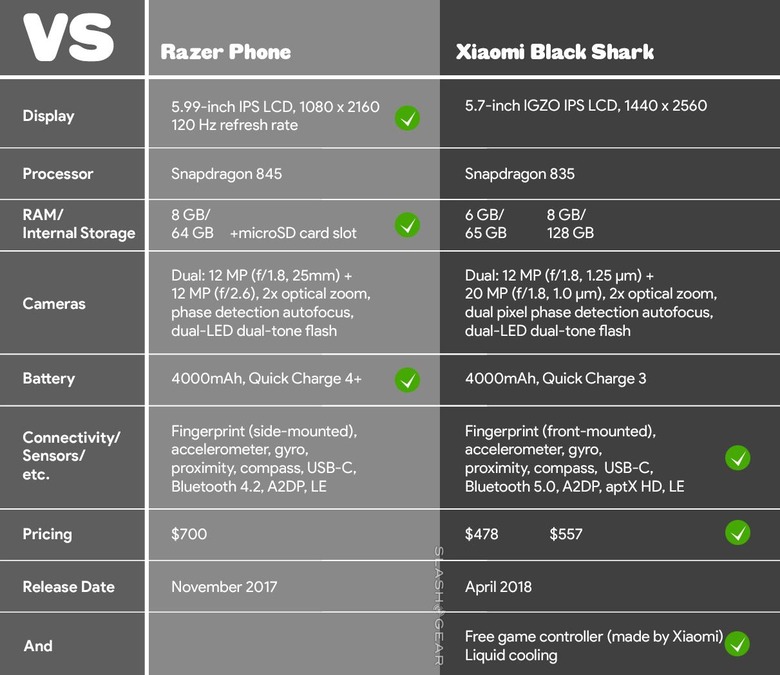 The processors, while they have different names, have fairly comparable innards. The Qualcomm MSM8998 Snapdragon 835 of the Razer Phone has: Octa-core (4x2.35 GHz Kryo + 4x1.9 GHz Kryo) and an Adreno 540 GPU. The Qualcomm SDM845 Snapdragon 845 used by the Black Shark has: Octa-core (4x2.8 GHz Kryo + 4x1.8 GHz Kryo) and an Adreno 630.
Those are the basics. Below you'll find some information about pricing and a few release dates. When we get the Xiaomi Black Shark in for review, we'll war again! Until then, have a peek at our Razer Phone Review for the full rundown.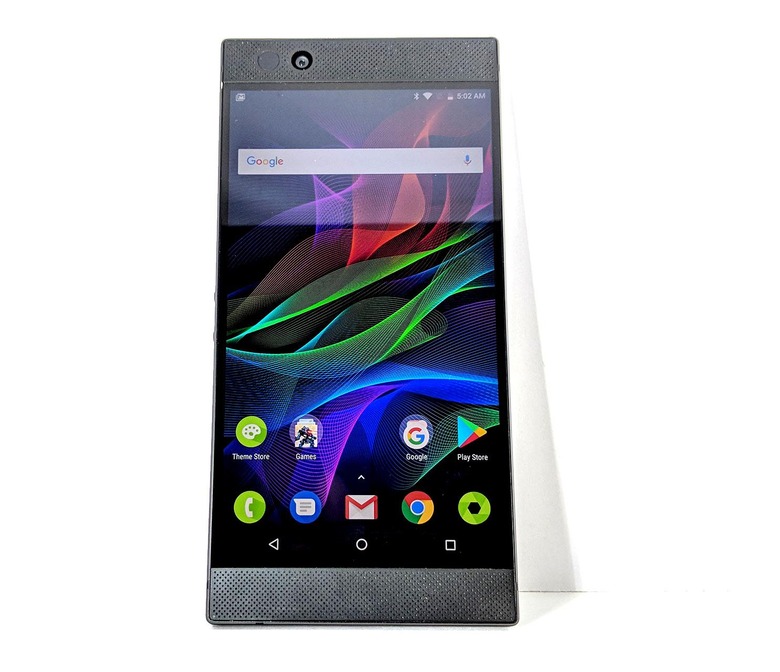 Pricing and Release
The Razer Phone was first released in November of 2017, while the Xiaomi Black Shark is set to hit the market on April 20th. Neither device is or was released on a carrier, and both were sold direct from their maker. The Razer Phone was made available in one iteration – with 128GB of internal storage – while the Xiaomi Black Shark will come in two sizes.
One Xiaomi Black Shark will come with 6GB RAM and 64GB internal storage, while the other will have 8GB RAM and 128GB internal storage. The former will cost around $478, while the latter's set to cost closer to $557 USD.
The Xiaomi device is, predictably, significantly less expensive than the Razer Phone. At $478 at its cheapest, the Black Shark is the winner on a purely dollar-for-spec basis. The Razer Phone is sitting closer to $700 USD. Once the Black Shark is out on the market for real, we'll see how it does VS its now-several-months-old competition. Then there's the matter of Razer's second phone, which might well be revealed later this year... Stay tuned!