Xiaomi Black Shark gaming phone is a liquid-cooled monster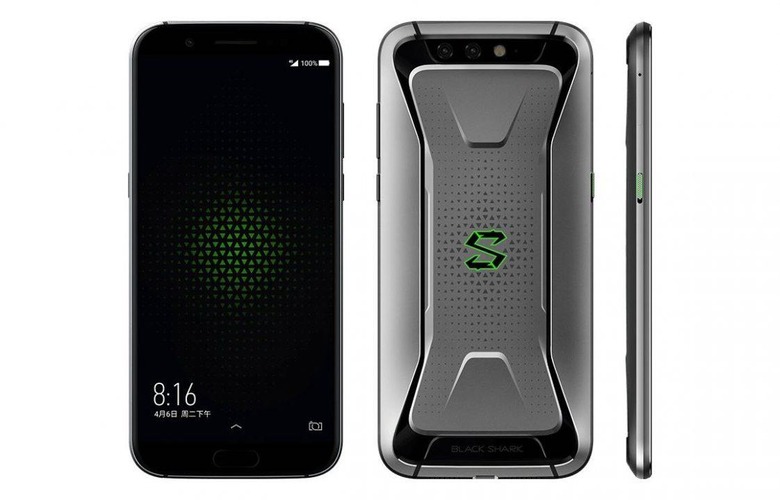 The past couple of months have been dotted with rumors of a gaming smartphone from Chinese manufacturer Xiaomi. The phone was said to be the product of a team up between Xiaomi and Black Shark – a company which Xiaomi has invested heavily in. Today, Xiaomi confirmed that the rumors are indeed true, and that it'll release a gaming smartphone quite unlike any that we've ever seen before.
Of course, it isn't as if gaming smartphones are a common sight, though that may be changing. Last year's release of the Razer Phone has some manufacturers planning gaming smartphones of their own, leading to the creation of the beastly phone you see here. This sudden interest in gaming smartphones couldn't come at a better time, as popular titles like
Fortnite and PlayerUnknown's Battlegrounds are making a play for mobile gamers
.
In any case, if you're looking for solid hardware, the Xiaomi Black Shark has it in spades. Today's announcement confirmed many of the rumors we've been hearing over the past few weeks, revealing a phone that runs on a Snapdragon 845 processor and comes with either 6GB or 8GB of RAM depending on the model. The 6-inch, 18:9 display clocks in at 2160x1080 resolution, so while it isn't quite as pixel-dense as the Razer Phone, it can still boast a respectable density of 403PPI.

What's particularly crazy about this device is that it's liquid-cooled, so if heat is a concern when you're playing graphics-intensive games, the Black Shark should do a better job than most of keeping things running smoothly. The phone is also outfitted with a 4,000 mAh battery, which hopefully means that gaming won't drain your battery quite as fast as it does on other flagships. Toss in a rear-facing dual camera that uses 20MP and 12MP sensors, along with a 20MP camera on the front, and this phone has some pretty capable specs even without the gaming slant.
From a design standpoint, the Black Shark is definitely a unique looking phone. The rear panel is designed to give you better grip while gaming, and a dedicated button on the left side of the device can be pressed to kick the phone into something of a high-performance mode. The Black Shark has also been outfitted with dual speakers and a mic, so communicating with teammates as you play shouldn't require a headset or a pair of earbuds with an inline mic.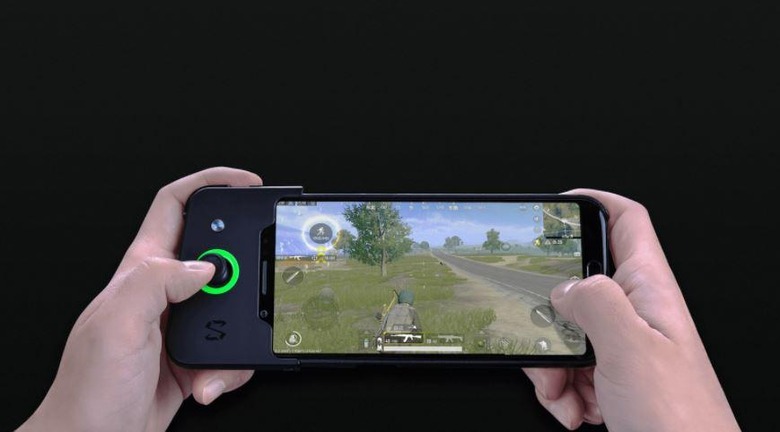 Perhaps one of the most interesting things about this phone doesn't have anything to do with hardware or design, but rather accessories. Xiaomi has also unveiled the Black Shark gamepad alongside this device, which is an accessory that connects to the bottom of the phone and provides a dedicated joystick along with some extra buttons. If navigating a character using touchscreen joysticks is something you'd rather not do (who would?) then this gamepad is definitely worth considering.
As with most Xiaomi handsets, this one is priced to undercut competitors. The Xiaomi Black Shark will be offered in two different variants: one with 6GB of RAM and 64GB of storage 2,999 Yuan ($477) and another with 8GB of RAM and 128GB of storage for 3,499 Yuan ($557). Both phones – which run Android 8.1 out of the box – will launch in China on April 20, and for the moment, there's no word on whether or not they'll come to other territories later. Hopefully the Black Shark has a good run in China, because it would be nice to see it come to Europe or the US as well.