Xentex dual-screen folding laptop on eBay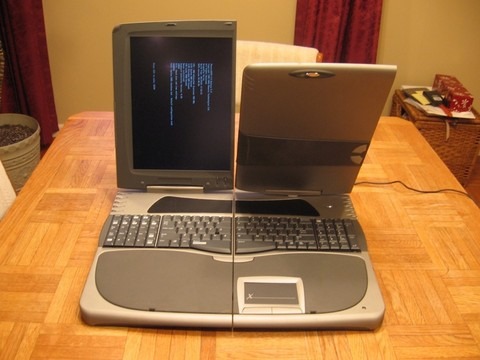 If you're looking for a laptop that nobody else will have – and that will interest everybody - ignore the MacBook Air, any Tablet PC or even Alienware's super-strength gaming notebooks.  Instead, stick a bid in for this Xentex prototype currently up on eBay: at first glance it looks like it should be a mockup, but this is actually a real, working laptop, it just so happens to be one with a folding chassis and twin swivelling screens.  The screens are in fact two 13.3-inch panels, and they can be independently rotated so that people can view them from each side.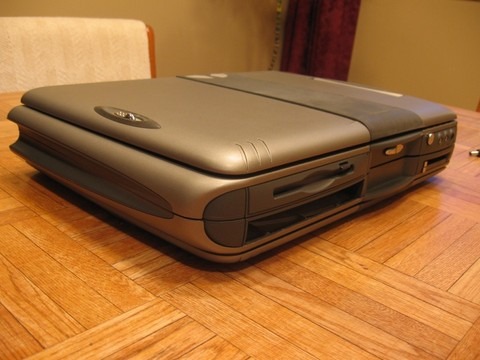 The specs aren't exactly going to blow you away – an 850MHz Athlon processor and 128MB of RAM – and the seller has had a lot of trouble getting past the bios (he's missing a hard-drive cable, and the Xentex didn't recognise his external CD drive).  There's also some minor case damage.  However you do get a floppy drive, which you don't often find (or, admittedly, need) on today's notebooks.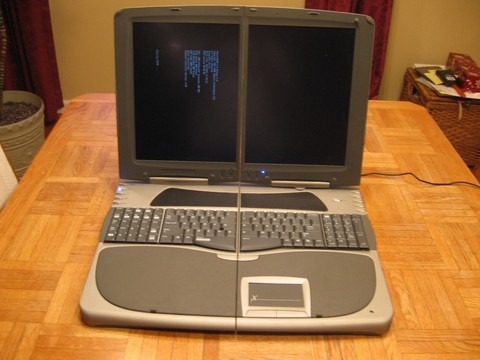 Measuring 19.5-inches across, this isn't small, and nor is it thin when you fold it up.  Right now, considering the rarity, it's actually a bit of a bargain.  Opening bids kicked off at $100, and as of writing it's reached $575 (after 18 bids). 
[via Reg Hardware]