Xbox One's massive Fall Update is now live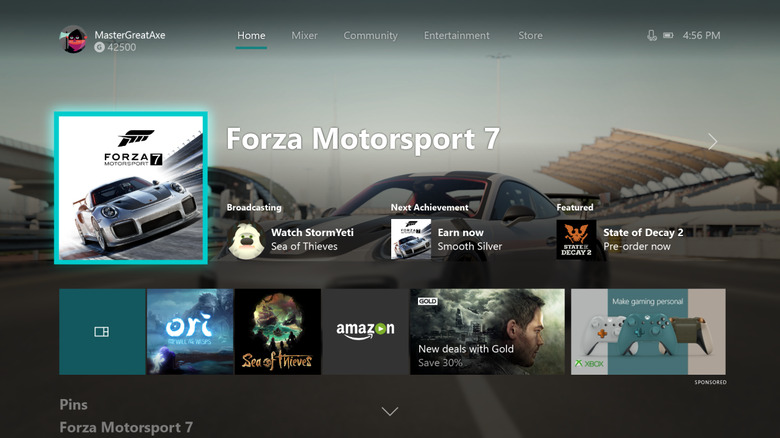 Just a day before the Windows 10 Fall Creators Update is scheduled to drop, Microsoft is pushing a similarly large update to Xbox One. With this new update, the name of the game is personalization. Among other new features being added, a revamp of the Xbox One's home screen is one of the biggest new things on the docket.
As outlined on Xbox Wire today, the Home menu will now allow for much more customization than it once did. You can now add "blocks" to your home screen that include your favorite games or friends and services like Xbox Live Gold or Xbox Game Pass. You can change the order in which these blocks appear too, allowing you to put the ones that are most important to you at the forefront.
One block worth some special attention is the new Pin block, which can have 40 different pinned items associated with it. You'll find a revamped Guide waiting for you after the update has been applied, which promises faster navigation through the horizontal tabs on the Xbox One menu. Just as well, when you pull up the guide while you're in an active party or you're broadcasting from your console, it will automatically switch to the relevant tab so you can access associated actions faster.
This update will also help those planning to upgrade to the Xbox One X prepare to switch. You'll be able to transfer your games to an external drive so that when you have your Xbox One X in hand, you only have to plug in the drive to begin gaming. You'll be able to do this with your console settings as well, which will you allow you to apply those settings when you're performing setup on your Xbox One X for the first time.
Other tweaks include the ability to use a USB webcam for your Mixer broadcasts or to do one-on-one video chats, as well as an option to sort by Xbox One X-enabled games in the Xbox Store. There's are a lot of other small changes coming along with this update, so be sure to have a look at the full Xbox Wire post for more. All Xbox One owners should see begin seeing this update today, so have at it.