Xbox One's Duke controller is a massive blast from the past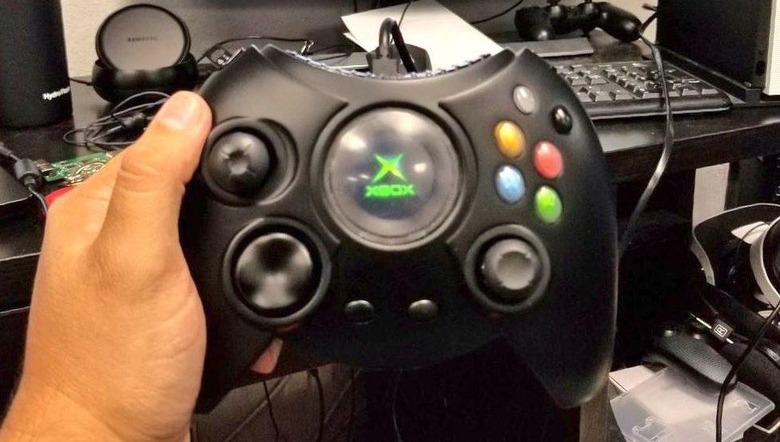 In an attempt to stand out from the competition, console manufacturers can sometimes be guilty of doing ridiculous things. There are many examples of wacky design decisions throughout gaming history, but one of the most legendary is the Duke controller for the original Xbox. Massive in every sense of the word, the Duke seemed equally lambasted and praised for its size.
These days, all these years after the original Xbox launched, the Duke is remembered fondly by some, including Seamus Blackley. Blackley served as one of the designers of the original Xbox, and for the past year, he's been working with gaming accessory maker Hyperkin to revive the Duke for the Xbox One.
This week, Blackley tweeted that the Duke controller has gone to tooling and has also been granted approval by Microsoft. This means that we're closing in on the launch of this nostalgic controller, and after 15 years, little seems to have changed. All of the original buttons are present, including the black and white buttons that were replaced by shoulder bumpers in the Xbox 360 and Xbox One controllers.
For the record, the black and white buttons seem to just be there for show – this controller will ship with fully functioning shoulder buttons, so you won't have to worry about actually using those buttons in-game. It's also worth pointing out that the Xbox logo in the center of the controller is actually a display, but what it will be used for aside from showing the logo is unknown.
In any case, this will be a nice blast from the past for anyone who actually misses the original Xbox and its big controller. Since it's been given final approval from Microsoft, we'll likely see it launch before the end of the year. There's no word on pricing just yet, but considering the amount of work that's gone into this, we probably shouldn't expect a budget-priced controller.