Xbox One X Project Scorpio Edition just sold out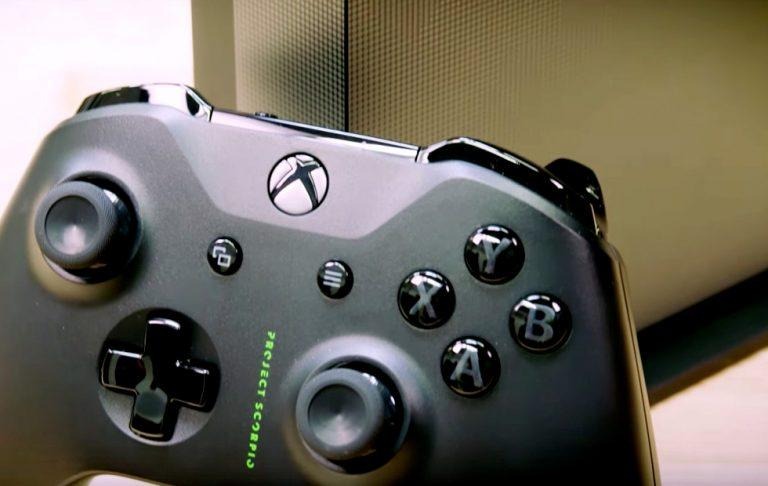 This weekend Microsoft revealed the Xbox One X Project Scorpio Edition, and it's just sold out. This device was announced to come with a custom designed casing with "Project Scorpio" printed on its side – and that's about it. It's not like the Minecraft Xbox One S, which has a full printed covering – this is more of a "just for the collectors" sort of deal.
The Xbox One X Project Scorpio edition also comes with a unique controller with Project Scorpio printed on it. So if you're the sort of person that likes ever-so-slightly different devices for the sake of looking just a tiny bit different – now's your chance. Or now WAS your chance, before the console sold out this morning.
The device is a 4th-wall breaking of sorts, as the name Project Scorpio was the code-name for the console before it received its final name: Xbox One X. Generally that sort of name, Project Scorpio, is used by the company making the device and (sometimes) remains in the device's internals, possibly in the device's settings. Now it's out here in the open.
In addition to the printing of the Project Scorpio in green on the console and one controller, this console has one more unique feature. It's what Microsoft describes as "a sophisticated and dynamic graphic pattern across the exterior." You will feel extremely special with this graphic pattern, of that you can be sure.
ALSO SEE: Xbox One X release details
It also comes with "an exclusive vertical stand" that looks to me to be exactly the same as the Xbox One S stand that allows the console to stand vertically. Why Microsoft would make this accessory "exclusive" is difficult to understand. They're also sending this console out in a box that's "inspired by the original Xbox." How about that?
This version of the device was available for pre-order for $500, the same prices as the XBox One X non-Scorpio edition (coming soon). Microsoft suggests that this version of the console is "designed for fans who want to be the first to experience the world's most powerful console." So good luck on finding one now – 3rd-parties nonwithstanding!
For those that wish to get this console on Pre-Order for the price as it was originally intended, contact your local Best Buy or Walmart – they MAY have good news for you. But don't hold your breath!