Xbox One X pre-order date: This is when Microsoft will spill all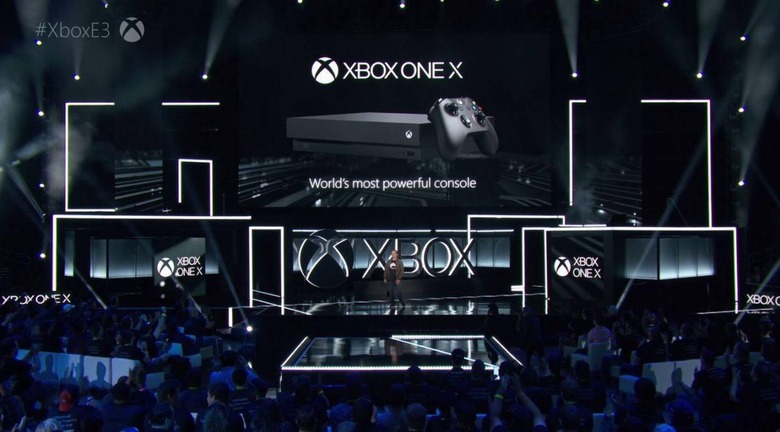 Back when the Xbox One X was first announced at E3 2017, Microsoft surprised all of us by revealing its release date right then and there. Thanks to that reveal, we knew from the start that the Xbox One X will be arriving on November 7, 2017. It was great to not have to wait for a release date, but Microsoft left out an important detail: It didn't tell when we'd be able to pre-order.
While we still don't have that information, we now know when we can expect to find out. In a tweet today, Microsoft revealed that it will announce Xbox One X pre-order dates during its Gamescom conference later this month. Yes, it appears that Microsoft has fallen victim to the whole "announcement of an announcement" trope, complete with a 50-second trailer that only holds relevant information at the very end.
In any case, Microsoft's Gamescom conference is scheduled to go down on August 20 at 3 PM Eastern/12 PM Pacific. We'll not only find out when we can pre-order an Xbox One X, but we'll also get a glimpse at some of the games slated to come to the Xbox One family and Windows 10.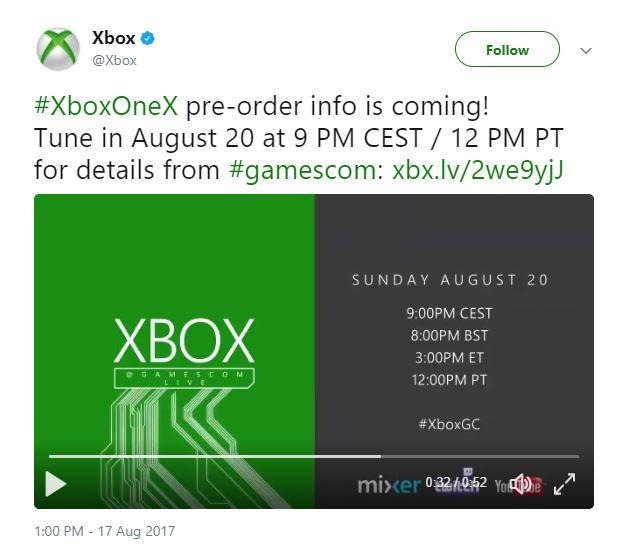 At E3, Microsoft revealed a host of games that will come to the Xbox One X, but we still don't know how many of those will be available at launch. Hopefully this Gamescom conference will shed some light on that. After all, asking people to spend $500 on a new console is a tough sell if there isn't going to be a lot of software which supports that hardware on day one.
Microsoft's Gamescom conference is just a few days away. It could determine whether or not the Xbox One X gets off on a good foot, so hopefully Microsoft comes with a lot of big announcements prepared. We'll be covering those announcements here at SlashGear, so stay tuned for more.