Xbox One X is off to a surprisingly strong start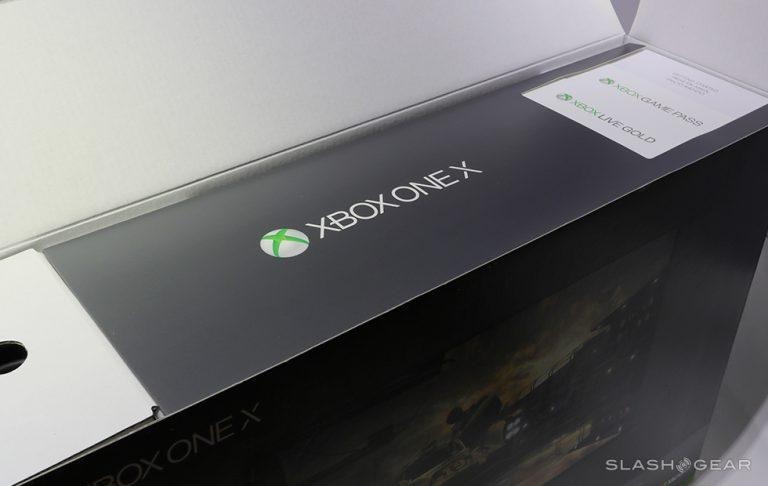 Though the Xbox One X offers a lot of power for a home console, there's been some concern that it may be priced outside of the range that many gamers consider acceptable. After all, at $500, it's the most expensive console out there, with its closest competitor being the PlayStation 4 Pro at $400. When you couple that with the fact that 4K has yet to really take off as the next big thing, it becomes clear that Microsoft is kind of venturing into uncharted territory here.
As it turns out, the Xbox One X is off to a pretty decent start, at least in Europe. GamesIndustry reports today that the Xbox One X sold 80,000 units in the UK alone during its first week of availability. That's no small task, since it means that the Xbox One X has matched first-week figures for the Switch and exceeded those of the PlayStation 4 Pro.
READ MORE: Xbox One X ReviewAaron Greenberg, who serves as head of Xbox games marketing at Microsoft, took to Twitter to follow up on that GamesIndustry report. He says that not only did the Xbox One X perform well in the UK, but also in the rest of Europe. He seems to suggest that the console was even more popular in North America, but he failed to share specific sales numbers for any region.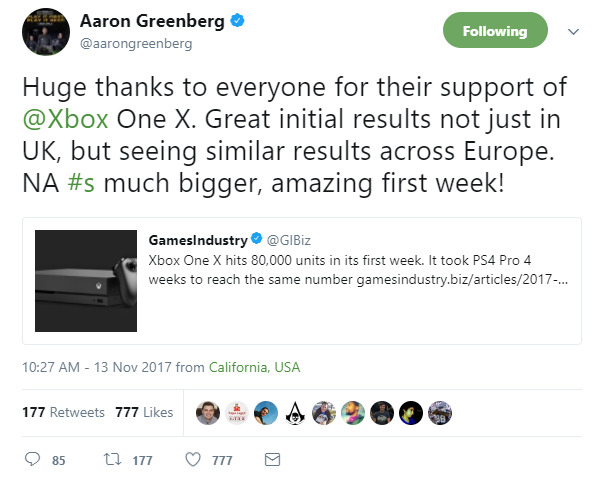 That the Xbox One X would perform better in North America than it would in Europe makes a lot of sense. The PlayStation brand is unquestionably the more popular one across the Atlantic Ocean, at least as far as this generation is concerned. In that sense, this is a pretty big victory for Microsoft, which has been playing catch up to Sony for years now.
It'll be interesting to watch and see if the Xbox One X can maintain this pace. A lot of those sales were Xbox enthusiasts picking up the limited Scorpio Edition of the One X, so once those are all spoken for, will the standard One X be just as popular? Time will tell, so stay tuned for more.